Honoring Excellence: A Glimpse into the Awards of the International System Dynamics Conference
The International System Dynamics Conference brings together experts, practitioners, and students to exchange ideas, showcase real-world applications, and celebrate outstanding achievements in the field. Every year, the System Dynamics Society recognizes exceptional contributions through a range of awards. In this article, we shed light on the various awards presented during the conference and the brilliant minds that earned these honors in the recent edition.
System Dynamics Applications Award



This award is presented for the best real-world application of System Dynamics. ReThink Health's System Dynamics model has made notable strides in the health sector, being integrated by over 20 universities and 52 federal agencies. Over 2000 individuals have connected with its network, formulating long-term, equitable recovery plans based on this approach.
Winners: ReThink Health – Bobby Milstein, Jack Homer, Gary Hirsch, Elliott Fisher, Rebecca Niles, Kris Wile, Chris Soderquist, and John Sterman.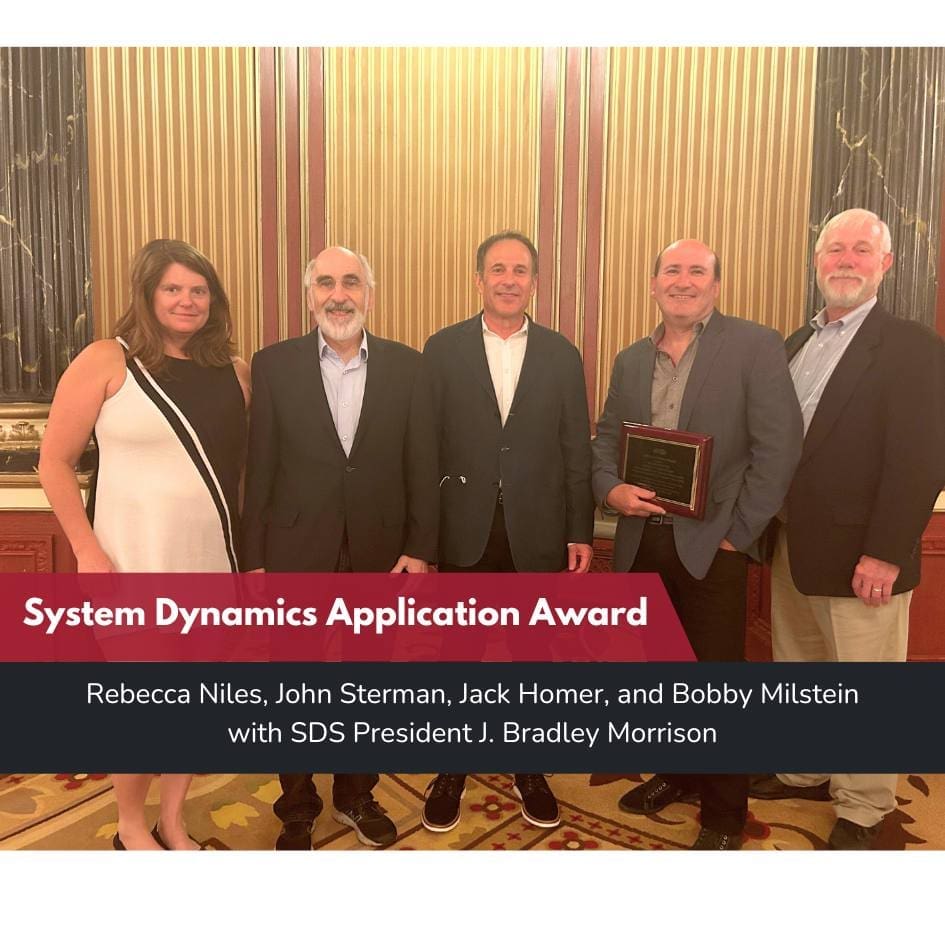 Outstanding Service Award 



The Outstanding Service Award recognizes individuals for their exceptional volunteer contributions to the Society over an extended period of time. Rod MacDonald, with his vast 25-year experience in developing simulation models, has been invaluable, especially with his contributions to the Modeling Assistance Workshop and the Short-Term Modeling Assistance program.
Winner: Rod MacDonald (left)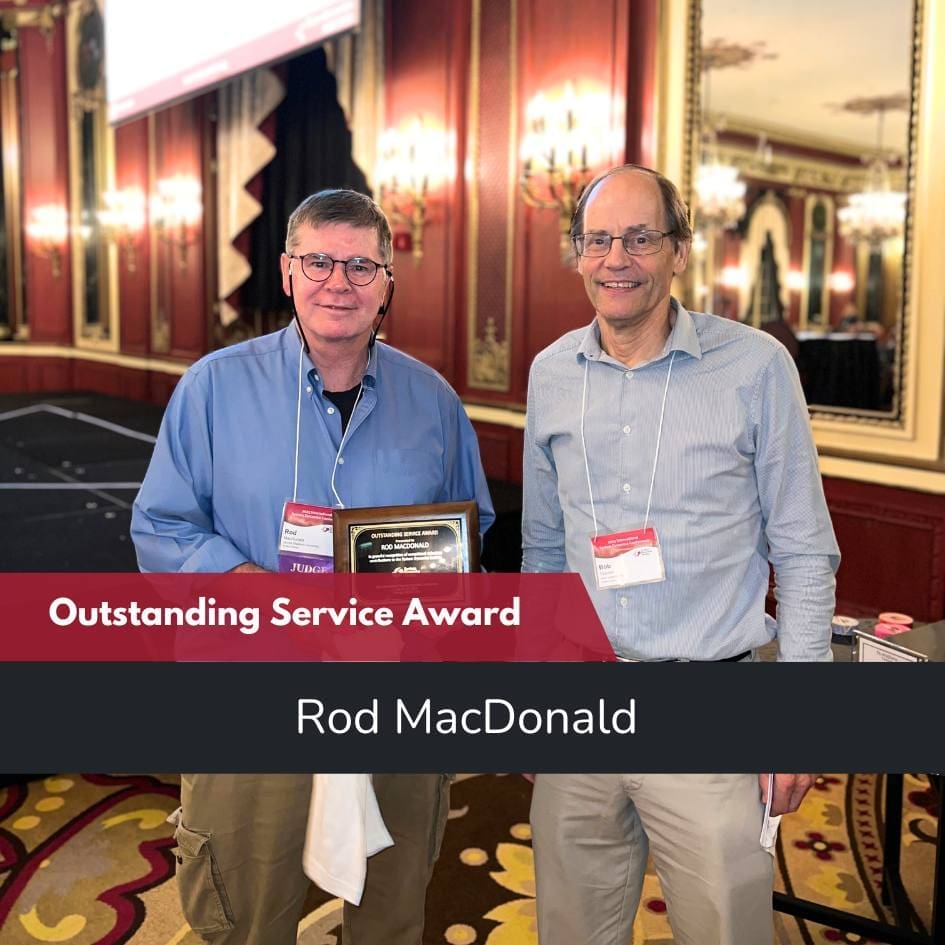 Dana Meadows Award
Named after Dana Meadows, this award celebrates top-tier student work in System Dynamics. Ann Osi and co-author Navid Ghaffarzadegan's research has clearly demonstrated the excellence the award seeks to honor.
Winner: Ann Osi
Paper: Data-Informed Parameter Estimation in Behavioral Epidemic Models
Abstract: Behavioral epidemic models integrate disease spread and human response. This study found that estimating behavior parameters is less accurate in early pandemic stages. Better estimates come after the pandemic's first peak and with more behavior data. Traditional SEIR models can be misleading, fitting well initially but erring later on. The research underscores the intricacies of calibrating behavior-disease models.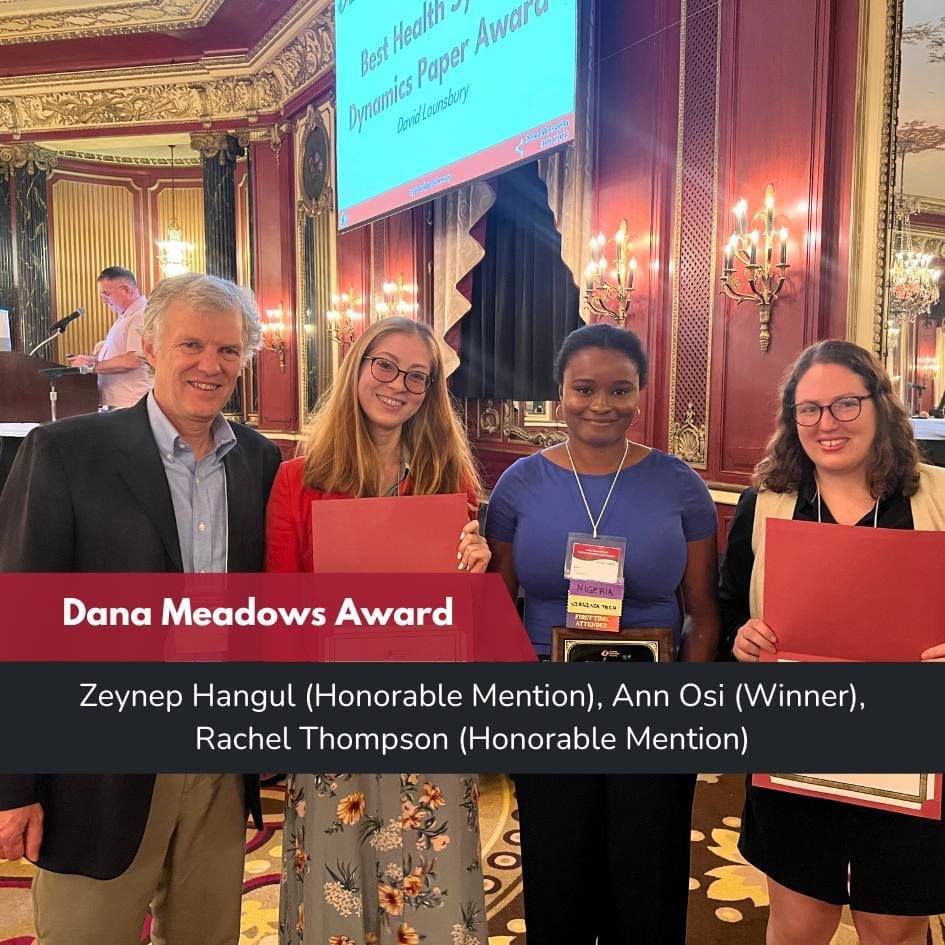 Early Career Health Paper Award
Aimed at acknowledging extraordinary papers addressing health topics by students or recent graduates. The paper by Samuel Allen, Andrada Tomoaia-Cotisel, Rod MacDonald, and Jason M. Etchegaray was outstanding in this category.
Winners: Samuel Allen and Andrada Tomoaia-Cotisel
Paper: Implementing and Sustaining Healthcare Quality Improvement: A Case Study Examining Feedback Structure and Dynamics

Abstract: Quality improvement (QI) in healthcare goes beyond simple feedback. A case study in a Neonatal Intensive Care Unit from 2015-2019 developed a unit-based approach (UBA) for front-line QI training, leading to improved quality. Mixed methods simulation modeling documented the feedback and context of this intervention. While a simplified feedback structure can explain many situations, sustaining UBA's effectiveness demands new management and system design innovations.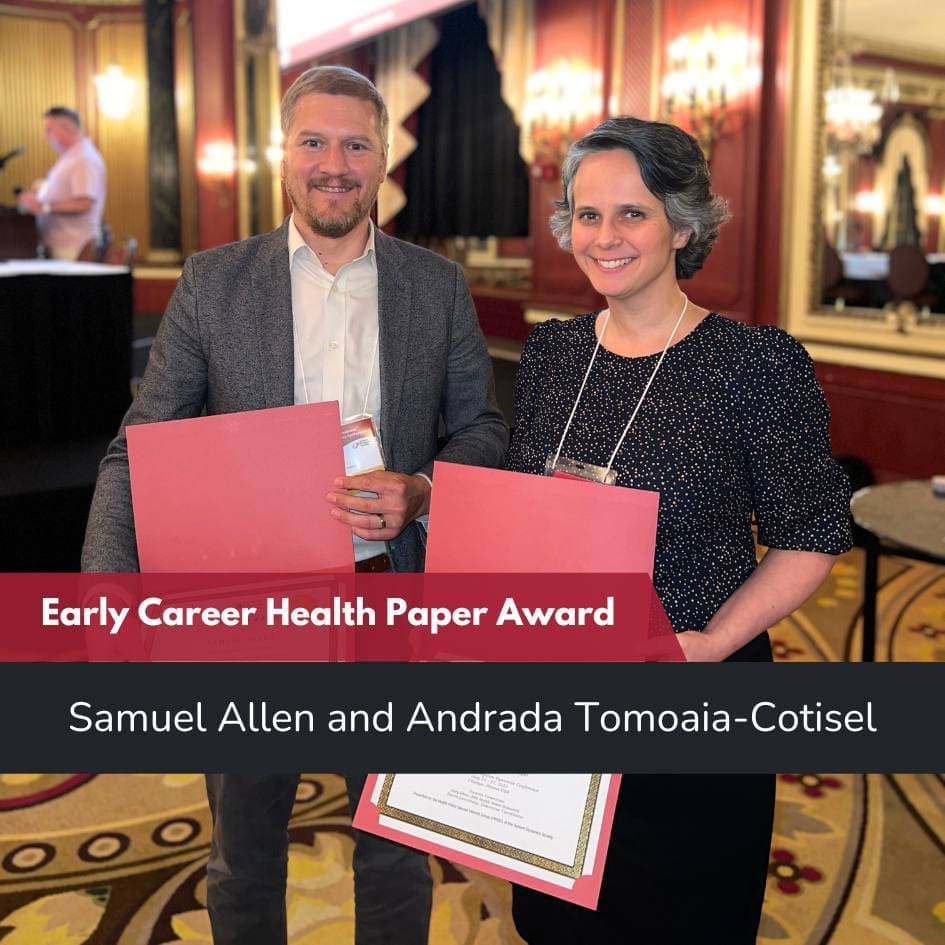 Honorable Mentions
The honorable mentions spotlight commendable efforts and innovative approaches that greatly contribute to the field. Their work exemplifies dedication, and innovation, and showcases potential future leaders in the domain.
Zeynep Hasgul and Alireza Akhavan – Dana Meadows Award and Health Award
Health-related Quality of Life of Patients Receiving Immunotherapy: Modeling Analysis (Q-PRIMA Study)
Rachel Thompson – Dana Meadows Award
A qualitative system dynamics model of overdose bystander behavior in the context of Connecticut's Good Samaritan Laws
Nabeela Mumtaz – Health Award
Estimates of the Reproduction Number for Seasonal Influenza Infectious Disease in the European Region from 2012 to 2016
Zahra Shams Esfandabadi – Dana Meadows Award
The Future of Carsharing Services and its Role in Sustainable Transportation
Barry Richmond Scholarship Award
Established in 2007 by isee systems to honor and continue the legacy of its founder, Barry Richmond. It is presented to a deserving Systems Thinking/System Dynamics practitioner whose work demonstrates a desire to expand the field or to apply it to current social issues.
Winners: Junlai Zhang
Paper: Using System Dynamics modeling to forecast China's population until 2060 to visualize the aging and shrinking population trends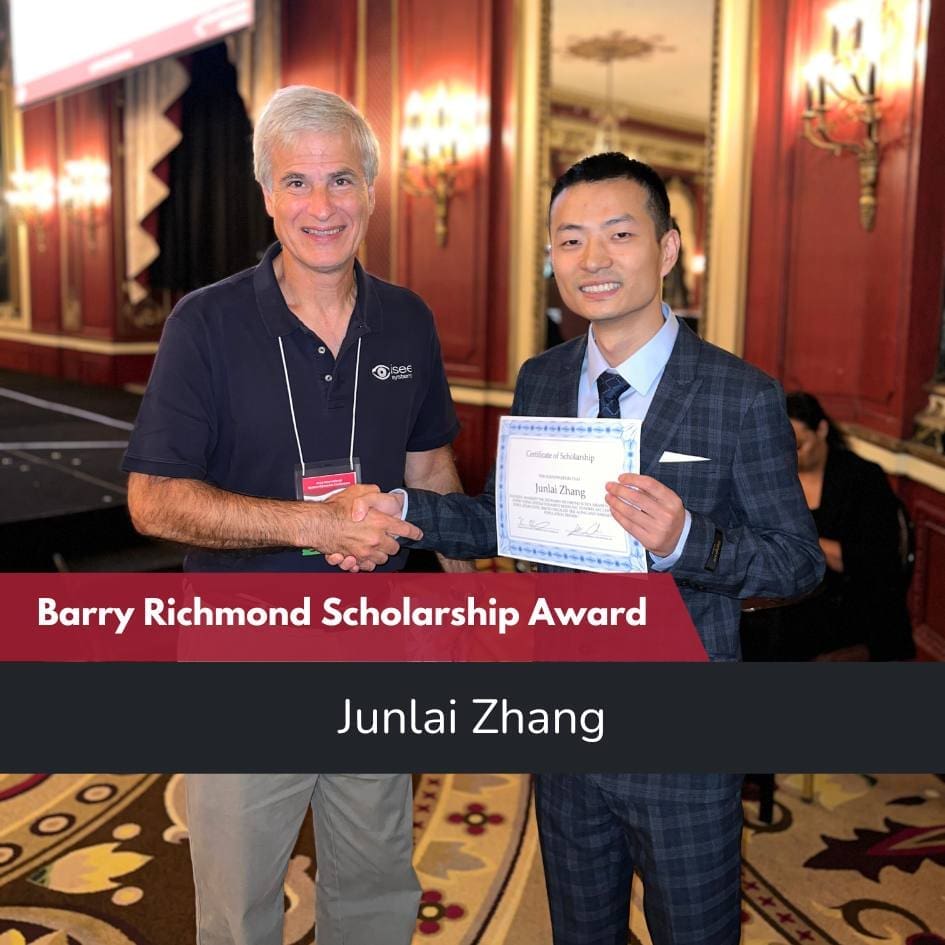 A Digital Twin Business Model in 40 Hours Though long past the date when I should have 'retired', I just can't resist interesting projects, like the one a new friend brought me a few weeks ago. It concerns a small but fast-growing B2B business,...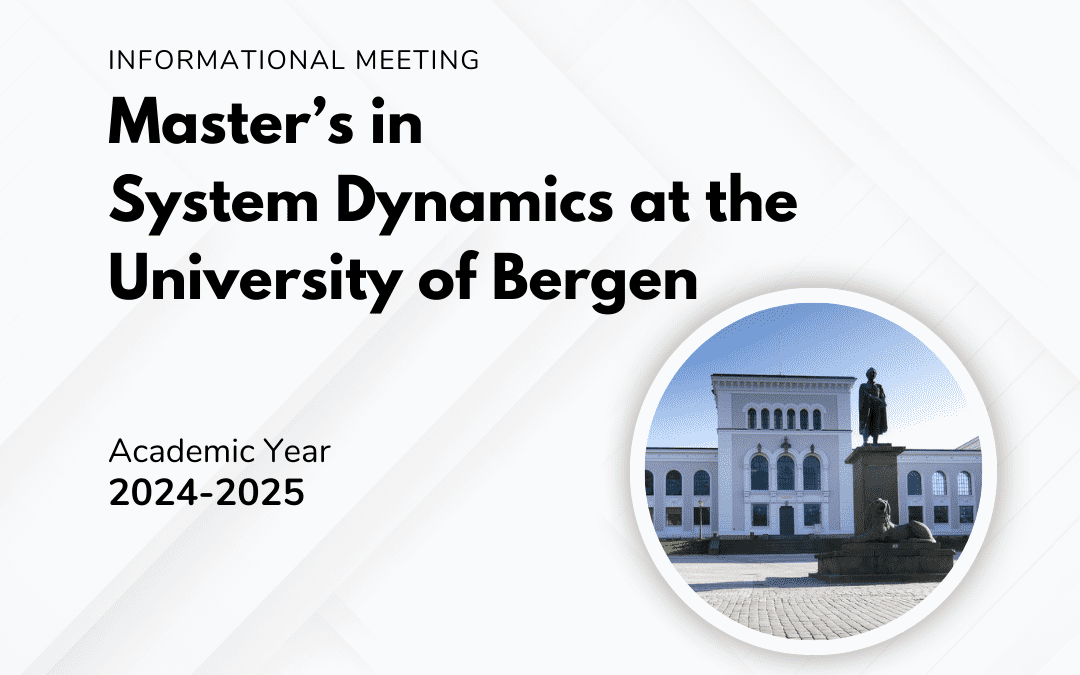 Join us on December 20th at 2pm CET for an insightful webinar on the Master's program in System Dynamics at the University of Bergen (UiB), a renowned reference and center of study in the field of System Dynamics. This session is designed to provide prospective...
System Dynamics Helps Farmers Escape Poverty Trap in Guatemala EXECUTIVE Summary Guatemala holds the 4th highest global ranking for chronic malnutrition, and climate change is intensifying the challenges subsistence farmers face in providing food for their families....
Twinings Uses System Dynamics Games to Enhance HR Capability "Realistic simulation is a powerful approach to building capability. The business simulation developed [by Dashboard Simulations and Lane4] gave [Twinings staff] an experience that called for them to develop...
RSC Uses System Dynamics to Increase HVACR Sales Against the Tide "Using the proven Strategy Dynamic process focused our limited resources on organizing strategic issues, identifying the critical resources, and developing the insight to more rapidly create intuitive...