Volunteer Jobs
Title (# of people) [Name of volunteer]
Pre-colloquium

SOC Core Team members (min. 6) [CT, Celia Stafford, Daniela Cialfi, Rachel Thompson, Sandra Volken, Yuhong Wang]  
Social media manager (1)* [CT]
Graphic designer (min. 1) [Yuhong Wang]
Volunteer manager (1)* [Sandra Volken]
Submission reviewers (as many as possible)

Day of Virtual Colloquium

Volunteer manager* 
Social media manager* 
Online Open Space table hosts (as many as possible)
Keynote moderator (1) [Celia Stafford]  
Technical chairs for Zoom breakout room creation (1 main, 1 backup) [CT, Sandra Volken]

Day of Hybrid Colloquium

SOC Core Team members (min. 2) [CT, Rachel Thompson, Celia Stafford]
Volunteer manager* 
Social media manager* 
Poster board set up assistants
In-person Open Space table hosts (as many as possible)
In-person plenary moderator (1) [Celia Stafford]
Online Tech Chair [Yuhong Wang]

* Works before and during colloquium.
Volunteer
We will list volunteer names and roles on the colloquium webpage.
Note: The SOC is a free event. Volunteering for the SOC does not qualify you for the reimbursement for ISDC main conference volunteers.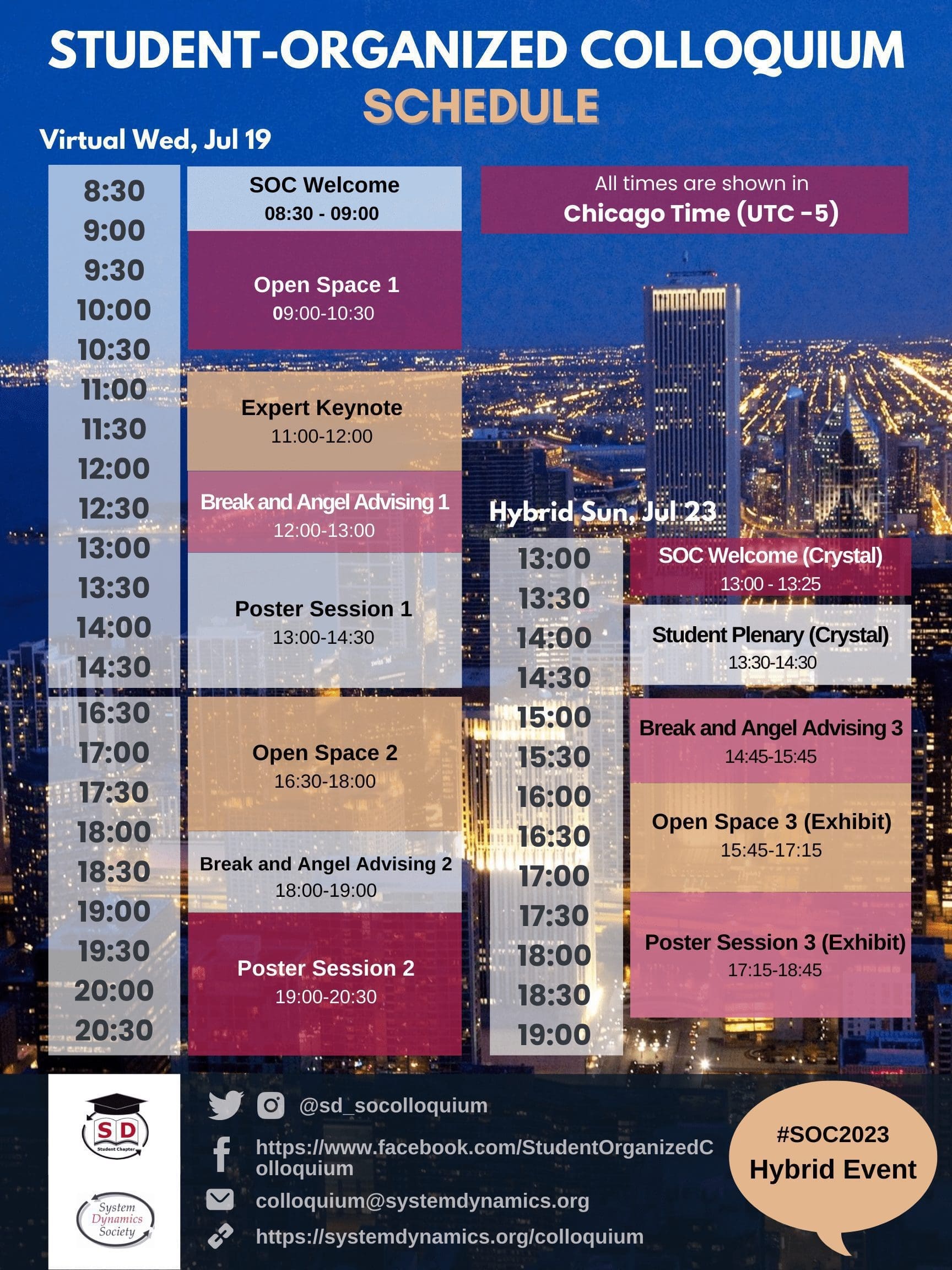 SOC Submission Reviewer
 Sign up to indicate which submissions you would like to review as soon as possible and notify the co-chairs (colloquium@systemdynamics.org)
 Log in or register in the SDS webportal system. 

Log into (or register as a new reviewer on) the Webportal. For more details, see the "Signing Up" and "Signing In" tabs on   https://systemdynamics.org/conference/submission-system/#technical-support
SOC Reviewers should choose "zero" when choosing the number of ISDC papers to review. That number is to sign up as a reviewer for the main International System Dynamics Conference. The SOC Submission Review is managed via a separate process using the google sheet.


An email notification will be sent specifying the submission(s) that requires your review.
Review "How to Review for ISDC 2023" for tips on how to be a good reviewer.
Open Space Table Host
Virtual Table Hosts:
Equipment Needed: Laptop
Software: Miro
In-person Table Hosts:
Requirements: Legible handwriting
The conference organizers will provide markers and paper.
SOC 2022 Table Host Training recording and slides with details on time and specific tasks and tips on getting the conversation going and keeping the conversation flowing 😉
Moderator
Equipment Needed: Laptop
Steps:
Join the Zoom room for session you are moderating
Manages questions in-person and online
Technical Chair
Equipment Needed: Laptop
Tasks
Works with the SOC and ISDC technical team to monitor the Zoom room for issues
Aids the co-chairs with time management
Creates breakout rooms and randomize people to breakout rooms for Open Spaces
Helps people who cannot enter a Zoom breakout room (for the poster portion)
Keeps a record of the number of participants
Volunteer Manager
Equipment Needed: Laptop
Tasks
Helps the co-chairs communicate with the other volunteers
Keeps a record of who volunteered, received training and can access Miro
Manages the Miro board used for the Open Spaces (co-chairs will assist)
Renames the online Table Hosts on Zoom to have "(Table Number) <Volunteer Name>"
Core Team
The Core Team works with the ISDC organizing team on logistics, catering, and the conference website.
The Colloquium organizers are responsible for soliciting contributions to the Student-Organized Colloquium, finding volunteers, managing volunteers, updating the Colloquium webpage, creating an event on the SDS site, assigning reviewers, selecting material for presentation, organizing sessions, handling on-site and virtual activities during the day of the Colloquium.
This is a brief overview of the steps that directly involve working with the Web Portal. In addition to this documentation, a useful resource is the Thread Chair instructions, since many activities overlap.
Looking at what is submitted
The User Menu for the Colloquium Chairs will include a link to the papers submitted for the Colloquium.





Click on the "Special/Student-Organized Colloquium Papers" link to see a list of papers:


Click on any one of the paper numbers to see more detail about the paper. Click on the author names to see everything the author has submitted to the conference, including regular program, workshops, colloquium, and other.
Assigning Reviewers
The review assignment process for the Colloquium is manual. For each paper in the list of papers described above click on the "Assign Reviewer" button. This will open a review assignment window:
To assign the reviewer click type in their name (pasting a name will not work) or email. As you type, a list of available names will appear:
Click on the name you want to use. Then click on "Submit" when you are done.
You can verify your selection by opening the window again. To remove a selection just erase it, then click on Submit.
When you assign reviewers, an email will be sent to them telling them they have a paper to review with a deadline 2 weeks from the current date. The paper to review will also show up in their menu when they enter the Web Portal.
Unassign reviewers by deleting their name from the box above. Unfortunately, they will not receive notification that they are unassigned.
Creating Sessions 
Sign into Webportal
Click on "Sessions Menu"
Someone on the ISDC organizing team might have already created a skeleton session for the SOC. If not, create plenary and poster sessions. (Side note: Create the keynote and open spaces through the conference site https://isdc.systemdynamics.org/). Create sessions by category. Consider the presenter's preferred time. Only 10 presenters per session.
Add paper # to the text boxes on the left under "Primary Papers"