Members are now able to add their System Dynamics-related events to the Society calendar
for greater engagement and visibility. Not a member? Join here.

Virtual Event
Biomedical Modeling
June 9, 2021 @ 11:00 am

-

12:30 pm

EDT

Virtual Event

$25.00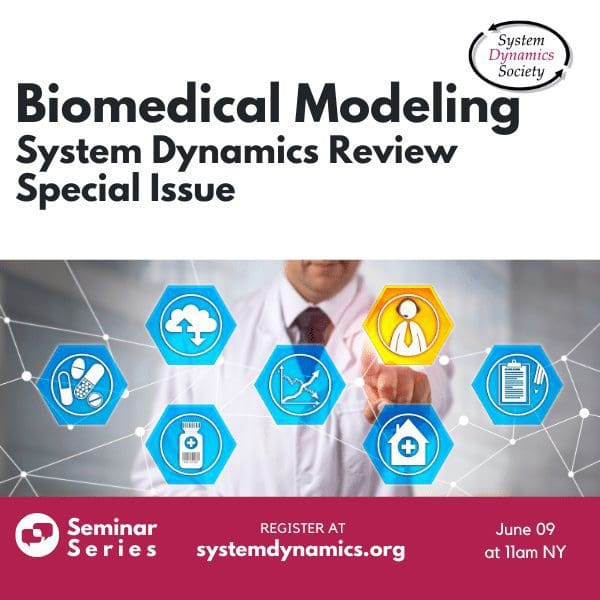 In this Seminar, authors will present their work published on the special issue of the System Dynamics Review.
The special issue on biomedical modeling of the System Dynamics Review brings together new research that explores a fascinating array of biomedical problems, from the modeling of pharmacokinetics, hematologic disorders, and blood cell production to chronic disease progression at an aggregate level.
The issue commences with three microscale biomedical articles and then continues with two articles that are at an increasing level of aggregation, with longer time horizons, as the focus moves from physiological modeling to population‐level health modeling. 
System Dynamics health modelers engage with interdisciplinary teams of medical and policy experts in order to explore exciting new biomedical research opportunities.
Articles:
System Dynamics of Cancer in Erythropoiesis with Multiple EPO feedbacks by Zamra Sajid, Morten Andersen, and Johnny T. Ottesen
Dynamic Trade‐offs in Granulocyte Colony‐stimulating Factor (G‐CSF) Administration During Chemotherapy by Orkun İrsoy, Şanser Güz, Naz Beril Akan, and Gönenç Yücel
An Evaluation of the Impact of Aggressive Diabetes and Hypertension Management on Chronic Kidney Diseases at the Population Level: A Simulation Analysis by John Pastor Ansah, Shawn Tan Yi Wei, Tessa Lui Shi Min
Modeling the Pharmacodynamics of Nandrolone Doping Drug and Implications for Anti‐Doping Testing by Özge Sahin, Feyyaz Senturk, Yaman Barlas, Hakan Yasarcan
Related Events