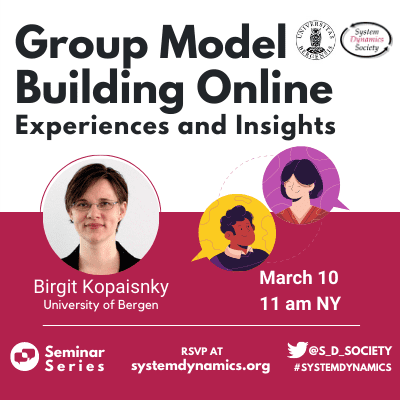 All Seminar Series Webinars are free for System Dynamics Society members. Join or Renew today and unlock all membership benefits.
11 am New York | 4 pm London | 12 am Beijing
Birgit Kopainsky | Anaely Aguiar | Brooke Wilkerson | Christina Gkini | Lars-Kristian Lunde Trellevik
When COVID-19 hit almost a year ago, we, a group of researchers at the University of Bergen in Norway, decided to take the leap and run a planned in-person Group Model Building workshop online on fairly short notice. Encouraged by the positive outcomes of this initial event, we have since experimented with several more online activities. In this seminar, we will share our experiences so far, demonstrate some of the online tools and templates that we have been developing, and exchange tips and tricks with seminar participants.
Seminars are free for 2021 System Dynamics Society Members and Subscribers. Join or Renew today to unlock all benefits.
Make sure you log in to get the discount.