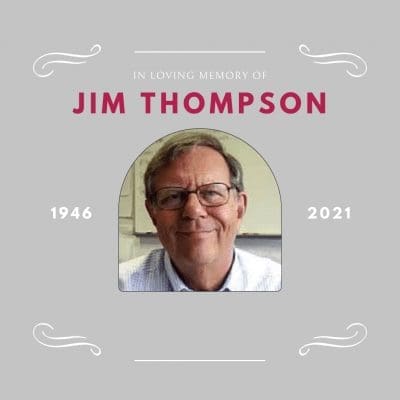 JIM THOMPSON
1946 -2021
It is with great sadness that we share the loss of yet another prominent System Dynamicist, Jim Thompson.
After graduating from the University of Massachusetts, Jim settled in Connecticut.  He started his career at Arthur Andersen and then worked as Treasurer at Kollmorgen. In 1990, Jim chose to make a change and pursue his passion, System Dynamics. He studied at MIT and earned his Ph.D. from the University of Strathclyde, Scotland.
Jim's drive to make a difference in the world led him to focus on the development of computer-aided health systems models.  He did this locally at Cigna and around the globe. His work served the World Bank, the Governments of Indonesia and Bangladesh, and the Graduate Medical School of the Duke-National University of Singapore.
A life-long learner, Jim enjoyed sharing new insights and contributing to research as an active member of the System Dynamics Society and as an adjunct professor and student advisor at Central Connecticut State University and Worcester Polytechnic Institute.  His legacy will live on in so many others that he touched with his work.
Memorial Service:  2:00 pm Saturday, September 11th at St. James Episcopal Church, 3 Mountain Rd., Farmington. Gifts in his name may be made to St. James Episcopal Church,3 Mountain Rd, Farmington, CT 06032