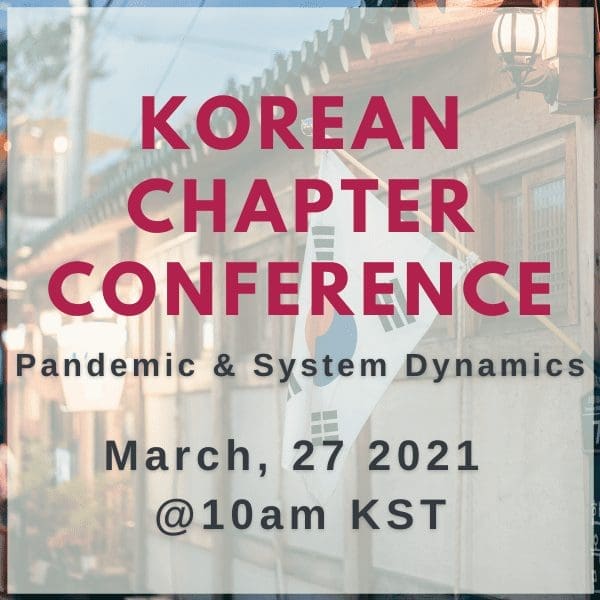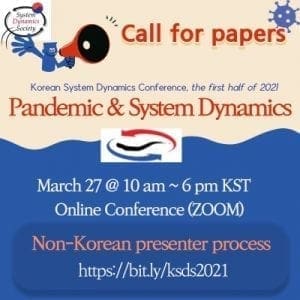 The Korean System Dynamics Conference for the first half of 2021 will be held on March 27 @ 10 am~6 pm KST(Korea Standard Time). The theme is "Pandemic and System Dynamics." The SIR model is a long-standing and conventional topic of system dynamics. Therefore, System Dynamics is asked to take a role in the era of pandemic triggered by COVID19. 
At least one session will be organized with the non-Korean presenters, a milestone for international solidarity and co-research.  Also, this conference will be one sample trial for overcoming the language barrier. All non-Korean presenters are allowed to use mother-language under the guidance of translation as below. 
Process for the Non-Korean presenter:
Submit a

letter of intent

to

korean@systemdynamics.org

titled "Non-Korean presenter" articulating the title of the presentation, and the information of the author(s), name, affiliation, nationality, and the verbal language for the presentation,

by March 13

Communicate with the assigned

Korean assistant

for the conference and could-be panelists for your presentation.

Submit

script file in English by March 19.  Your script will be translated into Korean. So, the script should be indexed page by page of the presentation file.
Submit the presentation file in English by March 22. The presentation file should be written in English even though you may present it in another language.
Practice rehearsing before the conference with the help of the Korean assistant.
Present at the assigned time at the conference entailing discussion.
Presentation format:
Presenters are allowed to use any format of presentation, PPT, Keynote, Google Presentation, etc. But the submission file should be PDF. 

All the presentations should have dynamics problem(s), structure analysis(CLD or SFD), implications or suggestions, references, and formulation in modeling.
NOTE:  The script and presentation file should be written in English even though the verbal language is not English. This rule is a minimum requirement. 
Please don't hesitate to contact the office of the Korean System Dynamics Society at korean@systemdynamics.