11 am New York | 4 pm London | 12 am Beijing
Across the world, citizens are being told what to do about Coronavirus by experts and politicians, with no understanding of what is happening or what is best to do around them. And those conditions can be highly localized, with infection and death rates differing by multiples just across the street. Young people, in particular, are disenfranchised by this approach, even though they play a key role in the pandemic. This webinar describes an accessible COVID model that can be readily localized to any specific area – large or small. It will describe unique findings – generated by young people with no prior experience – for Delhi, distinct parts of Mumbai, London, and New York/Bronx. It will conclude with wider implications for localizing System Dynamics models and for youth-engagement.
About the presenters:
Maurice Glucksman is currently Co-Lead Architect, The COVID 19 Localisation Modelling Group he founded with Dr. Kim Warren in March 2020 aiming to democratize COVID 19 modeling with an emphasis on quantifying and managing risk in local areas to especially help young people become confident advocates for risk assessment positive policy change in the pandemic.   He is now also an active investor and was Director of Research for Hamilton Ventures a Merchant Bank and Stockbroker Strenuus Capital. He also was a leader of the Business Dynamics group at McKinsey & Co a consultant with Pugh Roberts Associates and practiced Naval Architecture for 3 years between Business and Engineering degrees at MIT and the University of Michigan.
Kim Warren is the co-founder and director of Strategy Dynamics and former president of the System Dynamics Society. He's an experienced strategy professional, teacher, and publisher of online courses and resources on business modeling. He held senior strategy roles in several industries, from petrochemical to brewing. He taught at the London Business School on MBA and Executive programs for long years and developed the powerful strategy dynamics frameworks for designing and managing enterprise strategy. Kim's work on modeling business plans and issues has spanned cases in several businesses across the world. He's the author of the prize-winning Competitive Strategy Dynamics and teaches at the Worcester Polytechnic Institute and the Vienna University of Economics and Business.
Farrah Farnejad is a student at Queen Mary University of London who won the COVID 19 Youth Modelling Competition and has developed a model of the borough of Westminster and wrote an article with the COVID 19 Localisation Modelling Group on the impact of the new Covid 19 mutation.

Quinn Kennedy is a high School Student at Fordham Prep in the Bronx, who worked to estimate the likelihood of herd immunity in the boroughs of New York City and was an active contributor to an early analysis of herd immunity in New York City last summer and helped the COVID 19 Localisation Modelling Group to develop its course.

Harshita Magroria is a student at the University of Mumbai who led a team of 5 other students to study the outbreak in L Ward and discover the key differences between the slum and non-slum areas

Brahmani Nutakki a student at the University of Hyderabad who is the winner of a hackathon based on her work to automate predictive models of COVID 19 She led a similar effort to study Delhi and accurately predicted that the city would experience a surge in infections at the present moment. 
About the COVID 19 Localisation Modelling Group:
The COVID 19 Localisation Modelling Group was founded and collaborates with a group of 100+ volunteers to support teams working on COVID localized models globally. The group also offers a free COVID 19 Localisation Modelling Course.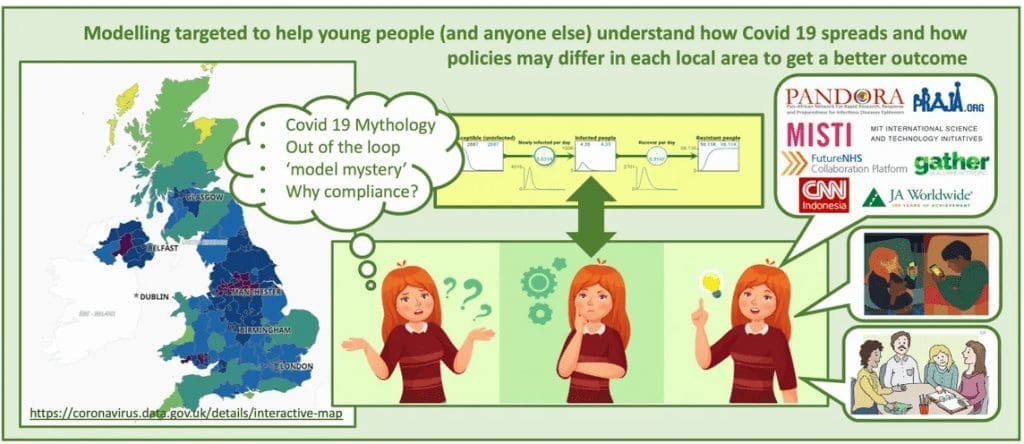 The System Dynamics Society is committed to making all COVID 19-related resources available for free.
Sponsor now
and help us in this effort!