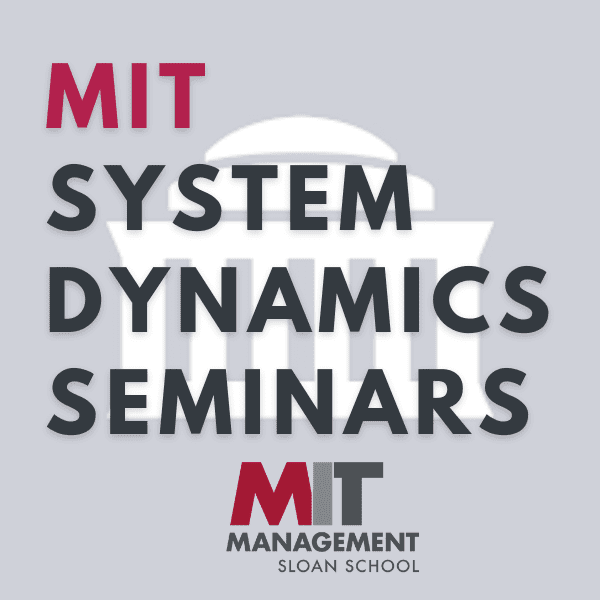 You are invited to attend the System Dynamics Seminar being held on Friday, March 10th from 12:30-2:00pm EST in the Jay W. Forrester conference room, E62-450, or via Zoom: https://rippel-org.zoom.us/j/86004993630 (Passcode: 767250)*. Our guest speakers will once again be Jack Homer, Bobby Milstein, and Chris Soderquist (ReThink Health) presenting First Look at ReThink Health's Multisolving Investment Model, Part II. Lunch will be provided to those attending in person.
*Please note that we are using a different Zoom link for this seminar
Abstract 
Picking up where the Thriving Together Theater leaves off, this session will offer a first look at ReThink Health's next-generation simulation tool, which we call a Multisolving Investment Model. This new tool will help stewards see for themselves WHY certain investments are especially powerful multisolvers in our quest to thrive together (such as efforts to establish racial fairness as a matter of system design; expand belonging and civic muscle; and secure the other vital conditions). As far as we know, this is the first dynamic model to track population-level changes in well-being separately by race/ethnicity, which in turn lets planners see how everyone benefits we invest more among those who have the most to gain.
During this "First Look" session, we will share (1) the origin story of this new model; (2) design features of a working prototype including a dynamic hypothesis, empirical sources, and calibration; as well as (3) insights from initial tests, including illustrative investment scenarios, optimization, and sensitivity to uncertainties. Together, we will discuss ideas for potential use-cases and facilitation options. But this session will largely concentrate on early insights from the new prototype model.
Technical Background: The new Multisolving Investment Model uses the vital conditions framework and builds upon two prior simulation models built to study investment scenarios. Here are background references about those three elements.
Milstein B, Payne B, Kelleher C, Homer J, et.al. Organizing Around Vital Conditions Moves the Social Determinants Agenda into Wider Action.
Health Affairs Forefront. 2023; Feb 2. https://tiny.cc/VitalConditionsHA
Milstein B, Homer J, Soderquist C. How Can a Community Pursue Equitable Health and Well-Being after a Severe Shock? Ideas from an Exploratory Simulation Model. Systems. 2022;10(5):158. https://www.mdpi.com/2079-8954/10/5/158 (see also this self-guided online interface)
Milstein B, Homer J. Which Priorities for Health and Well-Being Stand Out After Accounting for Tangled Threats and Costs? Simulating Potential Intervention Portfolios in Large Urban Counties. The Milbank Quarterly. 2020 February 6:1-27. https://onlinelibrary.wiley.com/doi/abs/10.1111/1468-0009.12448
Please visit https://sloangroups.mit.edu/saas/home/ for more information on all of the Academic Areas research seminars happening this semester.