Members are now able to add their System Dynamics-related events to the Society calendar
for greater engagement and visibility. Not a member? Join here.

Virtual Event
Multisolving: Working With Complexity and Interconnection
August 31, 2022 @ 11:00 am

-

12:00 pm

EDT

Virtual Event

$25.00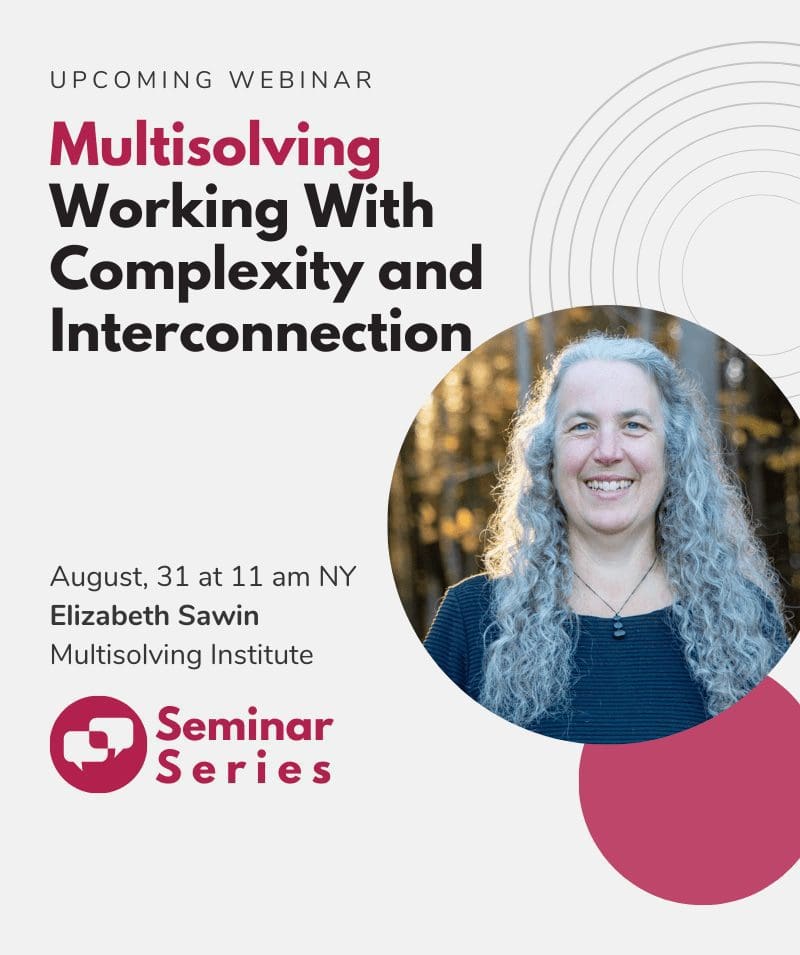 August, 31 at 11 am New York | 4 pm London | 11 pm Beijing (check your local time) Climate change. Biodiversity loss. Racial, gender, and economic inequity. Global pandemic and other health crises. Each of these challenges is serious on its own, but they also interact. Inaction on one crisis can erode gains in another, as when climate impacts threaten gains in health, well-being, or development. And sometimes an apparent solution to one crisis can worsen others, as when environmental protections were loosened in some countries to try to counteract pandemic-related economic slowdowns. But the same interconnections that lead to cascading crises also open up the possibility of synergistic solutions. Multisolving focuses on these possibilities – instances where the same intervention can yield multiple benefits. This one-hour webinar will share bright spots of multisolving from around the world. We'll also explore the obstacles to multisolving, and how systems thinking and systems tools can help people overcome these obstacles. The webinar will also introduce the Multisolving Institute, which was launched earlier this year, and may be familiar to some members of the System Dynamics Society from its roots in the Multisolving Program at Climate Interactive.
About the Speaker
Elizabeth Sawin is the Founder and Director of the Multisolving Institute. Beth is an expert on solutions that address climate change while also improving health, well-being, equity, and economic vitality. She developed the idea of 'multisolving' to help people see and create the conditions for such win-win-win solutions. Beth writes and speaks about multisolving, climate change, and leadership in complex systems for both national and international audiences. Her work has been published widely, including in Non-Profit Quarterly, The Stanford Social Innovation Review, U. S. News, The Daily Climate, and System Dynamics Review. She has trained and mentored global sustainability leaders in the Donella Meadows Fellows Program and provided systems thinking training to both Ashoka and Dalai Lama Fellows. Since 2014, Beth has participated in the Council on the Uncertain Human Future, a continuing dialogue on issues of climate change and sustainability among a select group of humanities scholars, writers, artists, and climate scientists. Beth is also a member of the advisory board of the Kresge Foundation's Climate Change Health and Equity Program. A biologist with a Ph.D. from the Massachusetts Institute of Technology, Beth co-founded Climate Interactive in 2010 and served as Climate Interactive's Co-Director from 2010 until 2021. While at Climate Interactive, she led the scientific team that offered the first assessment of the sufficiency of country pledges to the UN Framework Convention on Climate Change in 2008. Beth also led Climate Interactive's efforts to integrate measures of equity, health, and well-being into decision support tools and computer simulations. Beth trained in system dynamics and sustainability with Donella Meadows and worked at Sustainability Institute, the research institute founded by Meadows, for 13 years. She has two adult daughters and lives in rural Vermont where she and her husband grow as much of their own food as they can manage.
Related Events