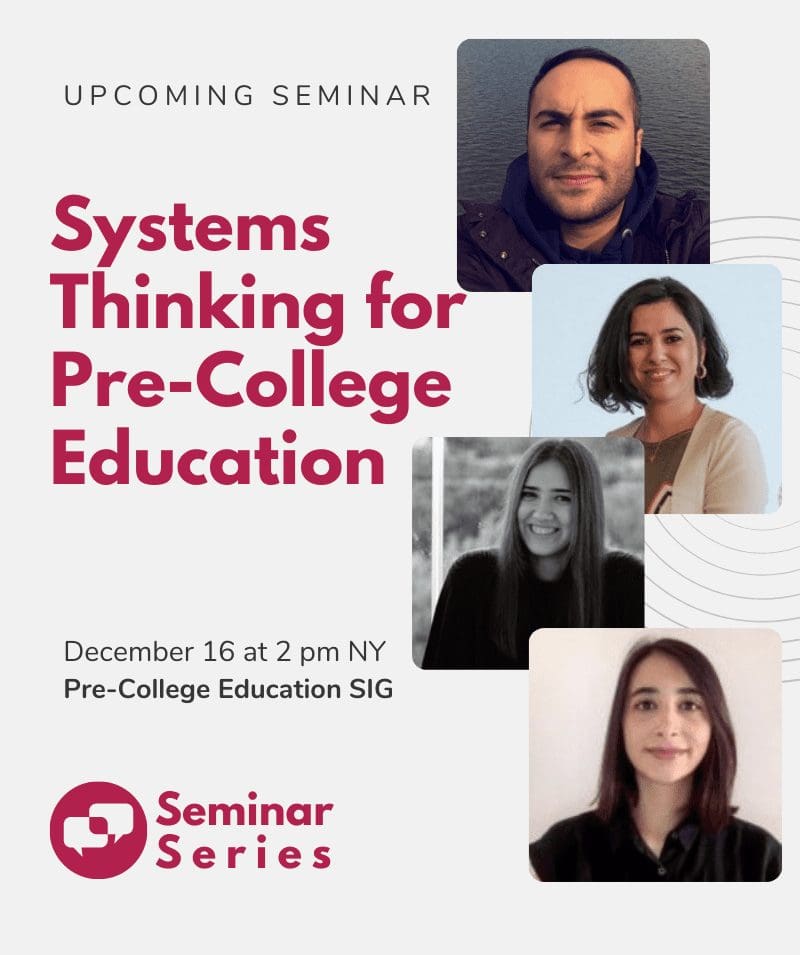 Pre-College SIG Seminar Series consists of periodic online meetings on K-12 education to the Systems Thinking and System Dynamics communities. These virtual activities cover a wide range of topics on K-12 education from many subjects while bringing together academics, teachers, and students together for learning and lively discussion. Our seminars aim to promote and improve skills to effectively apply systems thinking and dynamic computer simulation to K-12 education.  All seminars and recordings are free for both members and the general public.
"Pre-schoolers as Systems Thinkers: Testing the Water"
This study aims to cement the link between systems thinking (ST) and education for sustainability by presenting an example of systems education for young children. A learning framework was designed by developing a systems education guidebook focused on water and a learning framework based on the guidebook. The study was implemented over the course of four weeks with 32 children aged 5-6 in a pre-school in Turkey. To measure the outcomes, two ST assessment instruments (a shared reading and a concept mapping activity with interview protocols) were created. The children were pre-tested and post-tested with the assessment instruments using a mixed-method approach. The results revealed a significant development in the ST skills of the children. Children were more able to define system elements related to water and came to see invisible elements as parts of the system. The learning framework established high-quality causal relations between system elements related to water.
| | |
| --- | --- |
| | Şebnem Feriver earned her Ph.D. in early childhood education from Middle East Technical University. She has been working as a project manager, senior trainer, and advocacy expert for various national and international social development projects. Her research interests are systems thinking, transformative learning, teacher education, and early childhood education for sustainability. |
 "Understanding Composting with Systems Thinking"
In this presentation, examples will be given of learning activities compatible with the Ministry of National Education (MONE) in Turkey and International Baccalaureate (IB)  programs that seek to encourage a systems thinking approach and to develop a new way of understanding for primary years students(6-10 ages). For this activity, behavior over time graphs, stock-flow diagrams and ladders of inference were developed and used as systems thinking tools. During the activity, it was observed that the children were capable of viewing events with the tools provided, understanding these tools, and using them to engage with the subject matter. As a result, they were found to respond more clearly to the questions contained in the International Baccalaureate inquiry program and to be enthusiastic about taking action as individuals.
| | |
| --- | --- |
| | Özgün Çetinkaya earned her Master's Degree from Dokuz Eylul University in Izmir, Turkey on Primary School Teaching. She worked as a Primary Years Program (PYP) Class Teacher for 6 years in Işıkkent Primary School. She is preparing to start a Ph.D. program and her research interest is Systems Thinking Approach in primary years. |
"Teaching 'Energy Conservation' and 'Household Waste' with Systems Thinking Approach"
In 2020-2021 school year, systems thinking based on system dynamics approach and tools (behavior over time graphs and stock-flow diagrams) were introduced in Darüşşafaka Middle School in Turkey. The aim of this prototyping project was to develop and apply activities compatible with outcomes of the Ministry of National Education in Turkey (MONE). In the long term, with tried and tested activities, it will be possible to offer MoNE to include systems thinking in the curriculum of education in Turkey. After training of voluntary science and math teachers on basic systems thinking concepts using Stella Online thru the summer of 2020, topics from the national education curriculum were selected and activities were developed for 6th, 7th and 8th grade. A similar approach is used for selecting students and delivering lessons. In this presentation 2 of these activities will be presented: Energy Conservation and Household Waste. We think these two activities are good examples for an introduction to systems thinking with simple numerical models.
| | |
| --- | --- |
| | Sena Yıldız Değirmenci earned her Master's Degree from the University of Oulu, Finland on Learning, Education, and Technology. With a physics teacher background, she worked as a science teacher in Darüşşafaka Middle School. As a teacher and learning specialist, her research interests are systems thinking and learning through technology. |
| | Görkem Girgin completed his undergraduate studies in physics at Istanbul University. He has been a science teacher at Darüşşafaka Middle School for six years. He has been working on Systems Thinking at school for two years. |