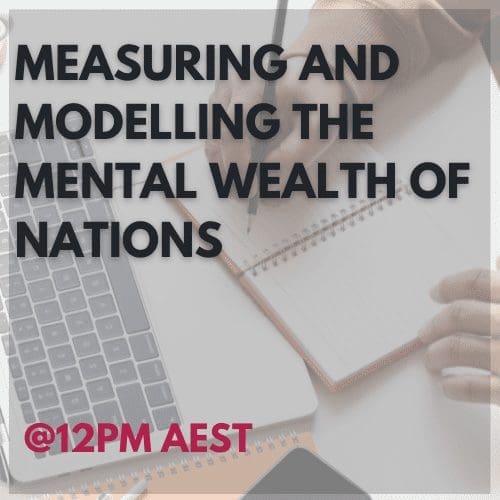 The Oceania Chapter of the System Dynamics Society Webinar Series.
Measuring and Modelling the Mental Wealth of Nations: Presentation and open discussion on using systems models to catalyse social change.
Presenter: A/Professor Jo-An Occhipinti (Co-Director, Mental Wealth Initiative; Head, Systems Modelling, Simulation & Data Science, Brain and Mind Centre, University of Sydney)
Abstract: The COVID-19 pandemic has exposed the deep links and fragility of economic, health and social systems. Discussions of reconstruction include renewed interest moving beyond GDP and recognising 'human capital', 'brain capital', 'mental capital', and 'wellbeing' as assets fundamental to economic reimagining, productivity, and prosperity. A/Professor Occhipinti will introduce the concept of Mental Wealth and the ambitious program of the Mental Wealth Initiative harnessing the transdisciplinary science of complex systems to measure and model a nation's Mental Wealth. This program is working to understand the extent to which policy-mediated changes in economic, social, and health sectors could enhance collective mental health and wellbeing, social cohesion, and national prosperity. The presentation will be followed by an open discussion on the use of systems modelling to catalyse social change.