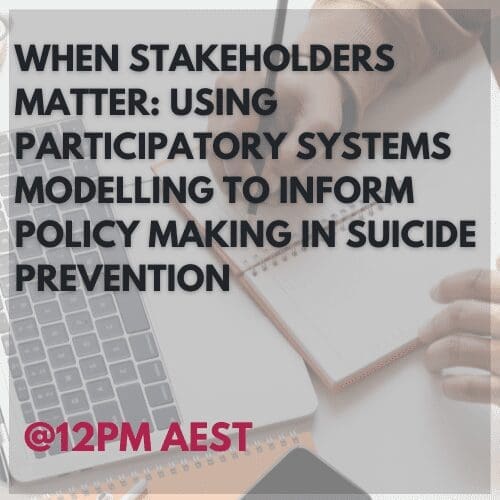 The Oceania Chapter of the System Dynamics Society Webinar Series.
When stakeholders matter: Using participatory systems modelling to inform policy making in suicide prevention

Presenter: Dr. Maria Michail, Associate Professor, Institute for Mental Health, School of Psychology, University of Birmingham, United Kingdom. Marie Curie Global Fellow
Abstract: This seminar will highlight the value of adopting a participatory modelling approach when developing complex systems models. SEYMOUR (System Dynamics Modelling for Suicide Prevention), an EU funded programme of work, will develop and evaluate a system dynamics model to inform youth suicide prevention policy, planning and implementation in Australia and the UK. We describe the process of bringing together a diverse group of stakeholders across different disciplines and types of expertise (e.g., young people with lived and living experience of self-harm/suicidal behaviour, carers, healthcare professionals, data scientists, service commissioners and policy makers) to collaboratively identify local needs and help us understand the dynamic complexity of the risk factors underlying suicidal behaviour within a complex health and social care services system. Stakeholders can offer unique knowledge of how the system operates, weaknesses in the system that could be used as leverage points, and how the system could be optimized through different policies, interventions, or service planning decisions. Stakeholder insight into contextual barriers and facilitators for the translation of interventions into practice can guide the development of locally relevant implementation strategies. The evaluation of participatory systems modelling approach is important as it allows transparency into how models are conceptualized and developed, thus, increasing model credibility. The findings of this study will highlight the merit of embedding a participatory modelling approach to model development; explore some of the challenges in relation to feasibility; and identify future directions to maximise the potential of participatory modelling to achieve better and more sustainable health outcomes.
SEYMOUR brings together a wide group of collaborators across the University of Birmingham, UK; Orygen, Centre for Youth Mental Health, University of Melbourne and the Brain and Mind Centre, University of Sydney.