Acute and Rehab Hospitals May Be Viable Under Medicare Cuts
The Issue You Tackled
The Affordable Care Act (ACA) mandates Medicare payment growth rate reductions to acute and rehab hospitals and home health providers. CMS/OACT initially calculated that these reductions would cause most such providers to become unprofitable by 2040, likely leading to widespread hospital closures and adverse impacts for patients. But this calculation was simplified and ignored several dynamic factors.
What You Actually Did
During 2012-2014, we developed an SD model that addressed the dynamic factors. One of them was population aging, which along with increased insurance coverage under the ACA, may help boost provider profits by increasing volumes and revenues.
If profits still decline, then provider reactions, such as downward adjustments in their breadth or availability of services, would help providers protect themselves in terms of costs, but at the same time may hurt patients and lead to more hospital readmissions and even deaths.
The model was tested with respect to multiple uncertainties and simulates several outcome metrics of importance to taxpayers, patients, providers, and communities.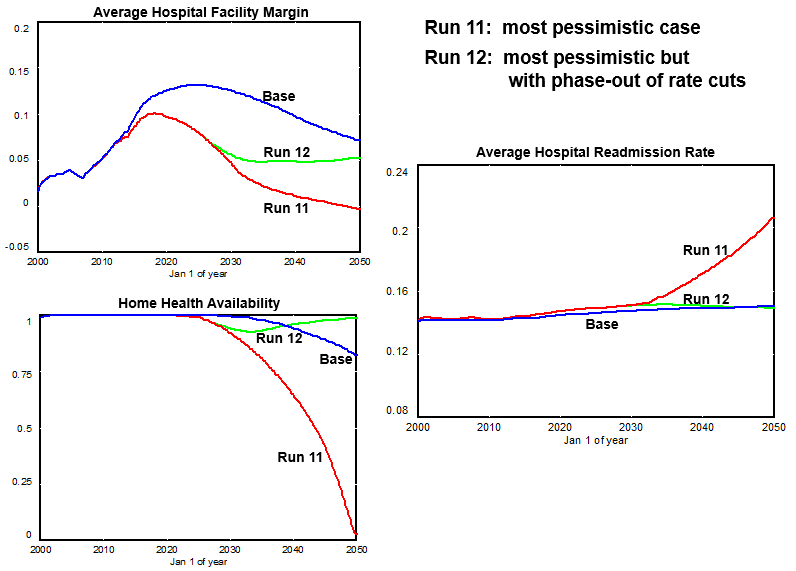 The Results
Most acute and rehab hospitals will likely maintain healthy profit margins in the coming decades despite the Medicare cuts and without the need for service cutbacks–due to the aging population, ACA insurance expansion, and the ability of most hospitals to reasonably handle somewhat higher bed occupancies than they have today. But home health agencies will not fare as well, and some will close. A worst-case scenario could start to hurt hospitals by the 2030s; but in this case the rate cuts could be phased out, and the system could be stabilized.
Name

How Medicare Payment Rate Reductions Will Affect Hospitals and Patients

Modelers
Jack Homer

, 

Gary Hirsch
Client/Participant

Centers for Medicare and Medicaid Services, Office of the Actuary (CMS/OACT)

Client Type

Government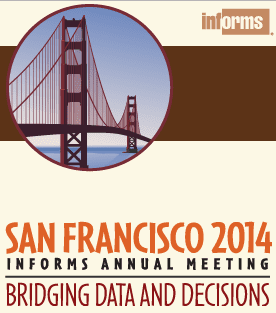 INFORMS Annual Meeting
This case was presented at the INFORMS Annual Meeting in November of 2014 in San Francisco, California. Please find the slides that were used during the presentation here.
OTHER SUCCESSFUL APPLICATIONS
Twinings Uses System Dynamics Games to Enhance HR Capability "Realistic simulation is a powerful approach to building capability. The business simulation developed [by Dashboard Simulations and Lane4] gave [Twinings staff] an experience that called for them to develop...
All Chapter Members are invited! Agenda Topics Include: 1) SOC activities update 2) Coordination of SC Fundraising activities with SDS 3) SC Senior Advisors Committee update 4) Any other business?
Engaging Younger Audiences in Climate Change Education This webinar focused on engaging younger audiences in climate change education using the analogy of a bathtub. Linda Booth Sweeney, a systems educator, and author shared innovative ways to educate children about...
The Role of Creativity in System Dynamics and Systems Thinking A thought-provoking discussion led by internationally renowned expert Dennis Sherwood, as we explore the concept of creativity in System Dynamics and Systems Thinking. Delve into questions such as what...
Celebrating Women's International Day Over the past several decades, more women have become part of the System Dynamics field, greatly increasing gender diversity in our discipline. We have many amazing, inspiring, brilliant, and visionary female leaders. Today...
LET US BE PART OF YOUR JOURNEY
Do you want to lead your organization into the future by overcoming paradigms and creating change? With Systems Thinking and System Dynamics you will enable powerful decision-making and find the leverage points to improve profits, strategy, efficiency, sustainability, and more.