Planning and Managing Performance Improvement Programs
See also a more extensive article based on this post, and watch the recording below on the topic.
Organizations of all sizes and types undertake programs of effort to improve their performance, whether it's in the areas of health and safety, net-zero efforts, or digital transformation. But sustaining momentum for such efforts is tough, and many fail completely.
It turns out that such programs share a common structure, which can be used to assess how the program may progress, how benefits may grow over time, and the cost and effort of achieving them (figure 1).
Performance-improvement programs generally aim to eliminate or mitigate some problematic outcomes such as staff injuries, the loss of critical data, excessive energy use, and inefficient business processes. Those problematic outcomes are caused by previously unidentified problem drivers – hazards in business facilities, data vulnerabilities, inefficient or under-controlled energy-using assets, and inefficient business processes.
So the basic aim is to eliminate or mitigate those problem drivers. This essentially consists of two overlapping efforts [1] to find and quantify those problem drivers, then [2] to eliminate or mitigate those problem drivers that are found.
As benefits start to become apparent, two self-reinforcing mechanisms (R) kick in. First, the staff becomes engaged in its success and adds – often greatly – to the discovery of those unknown opportunities. This boosts leaders' confidence, so financial savings from the program can be recycled to speed up the rate at which benefits are realized.
In due course, we run out of unknown opportunities to find, and the cost-benefit of remaining opportunities declines – two balancing mechanisms (B) that ultimately limit the benefits that can be gained.
Figure 1 – The overall structure of the system that underlies improvement programs.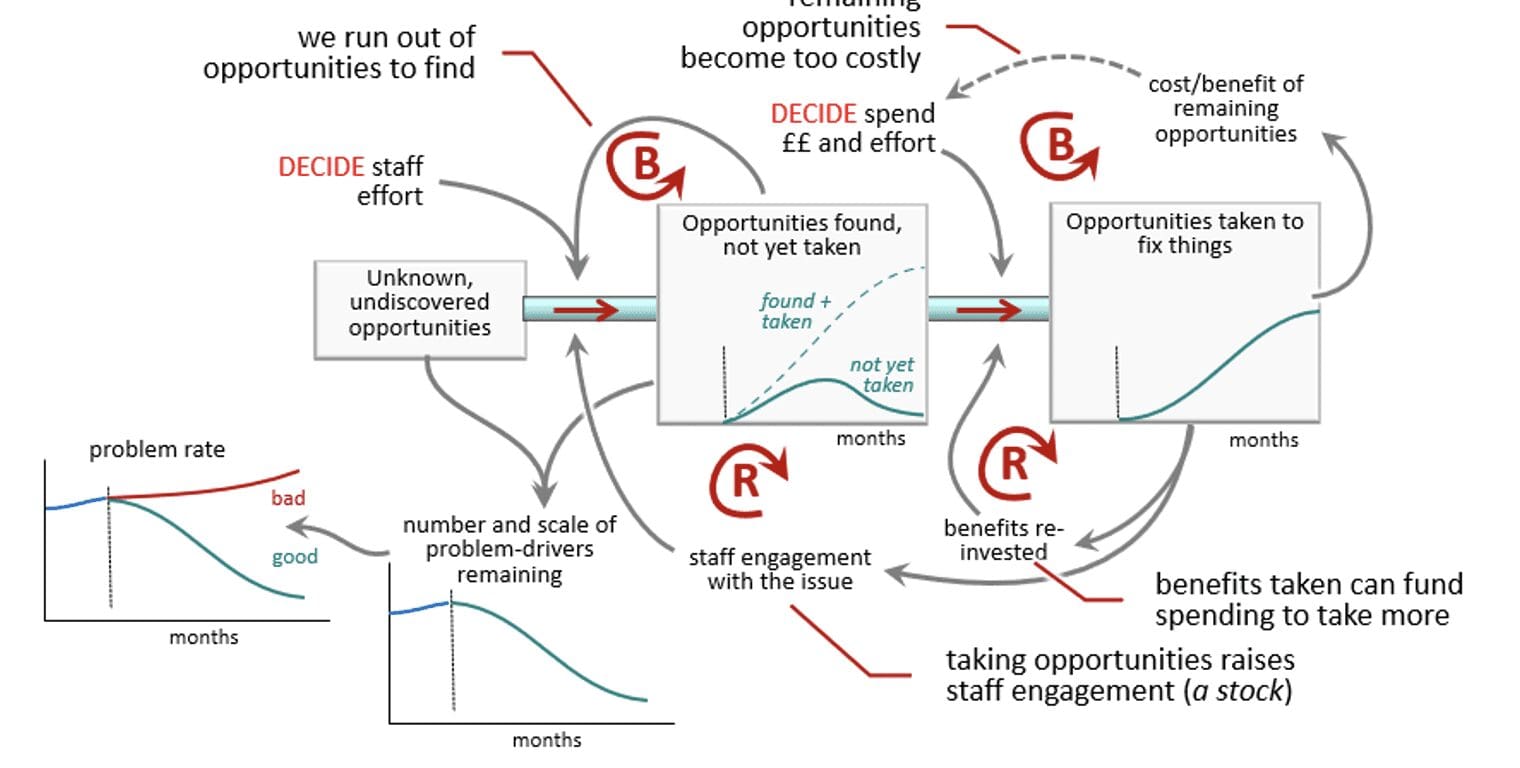 Reviewing real-world cases revealed how the principles above actually work in practice. One example concerned a 2-year effort on energy-saving by a large ready-meals producer operating several facilities.
 Management appointed an energy manager, who soon brought monthly reports to the executive team, itemizing savings opportunities and specifying their impact, cost, and implementation steps. Those opportunities brought further benefits, such as lower maintenance costs and production downtime. The visible benefits led to staff adopting energy-saving behavior and finding still more opportunities. In under 2 years, the program saved 40% of the organization's energy use – with no significant capital investment. Future investment will drive down energy use still further.
 The structure in figure 1 can be quantified and modeled,  then used to manage the program over time (A demonstration model is available at sdl.re/EnergySaving1, and a simple guide for its software is at sdcourses.com/silico-guide).
Background
The figure 1 framework and the working models that prove its value emerged from work for the British Standards Institution (BSI). BSI publishes internationally-recognized "ISO" management standards on a very wide range of topics. BSI commissioned a series of "serious games" to show the key choices and impact of adopting Standards – explore the first few games here, all built on working models of figure 1. BSI also wanted a game to encourage small-to-medium enterprises (SMEs), to drive down greenhouse gas emissions. See The NetZero Challenge.
Figure 2 –The results screen of the NetZero Challenge game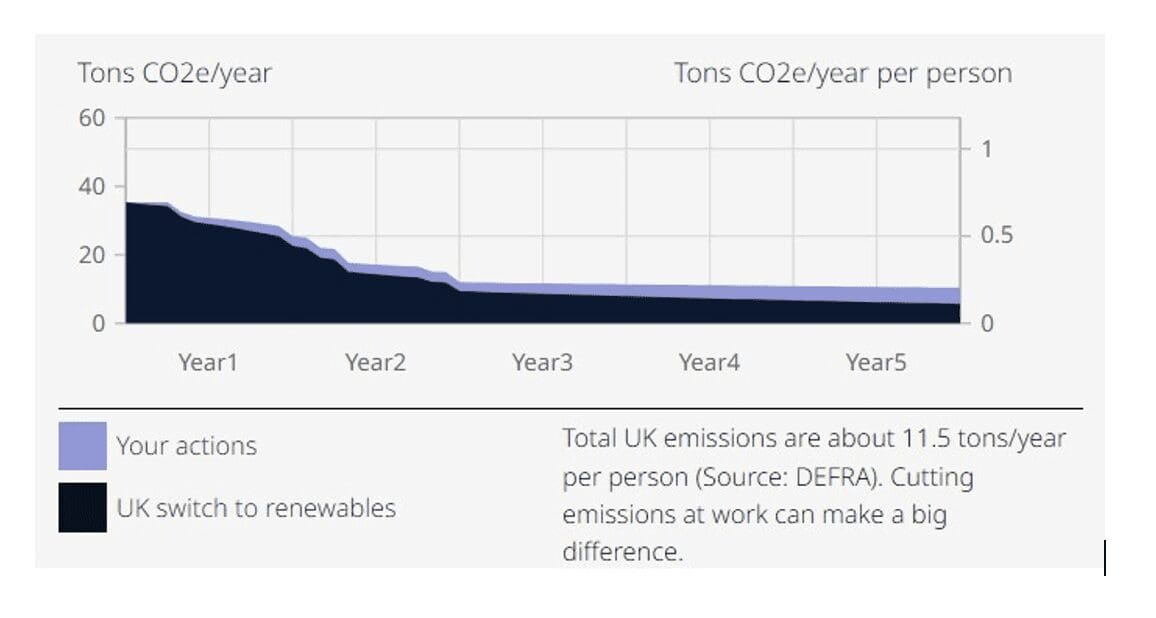 Watch the recording below
Whoops, this recording is available for members and ticket purchasers only. Please login to verify. If you're not a member, purchase a membership here. You can also buy a ticket to watch the recording here. 
About the Speaker
Kim Warren is an experienced strategy professional, teacher, and publisher of online courses and teaching resources on business modeling – fast becoming a mainstream capability for executives, consultants, and business students. He was awarded the Jay Wright Forrester Award by the International System Dynamics Society in 2005 and was the Society's President in 2013.
Honoring Excellence: A Glimpse into the Awards of the International System Dynamics Conference The International System Dynamics Conference brings together experts, practitioners, and students to exchange ideas, showcase real-world applications, and celebrate...
ABSTRACT: This work deals with the development of a system dynamics model for prevalence, prevention, and control of diabetes in Varanasi. The model was developed to explain the growth of diabetes since 2017 and portray possible future through 2050. The model...
Fast-Track Cities Uses System Dynamics to Enhance HIV Care EXECUTIVE Summary Low levels of viral suppression at 69% for people with HIV make it hard to believe the 95% target level will be achieved by 2030 in St. Louis, USA. As a solution, Fast-Track Cities-STL opted...
System Dynamics Unravels ICU Tensions at the Portuguese Oncology Institute EXECUTIVE Summary The Portuguese Oncology Institute (IPO) faced a critical challenge in its intensive care unit (ICU) where doctors and nurses experienced high turnover due to tensions with...
System Dynamics Helps Farmers Escape Poverty Trap in Guatemala EXECUTIVE Summary Guatemala holds the 4th highest global ranking for chronic malnutrition, and climate change is intensifying the challenges subsistence farmers face in providing food for their families....