Sarawak Redefines State Priorities with System Dynamics
The Issue You Tackled
The Centre for Operational Research & Applied Statistics at the University of Salford was awarded a contract during 2003-2005 to offer a more scientific basis on which to formulate future economic and social policy in Sarawak, East Malaysia. The direct project clients were members of the State Planning Unit (SPU). The State, on the northern coast of Borneo, was a former British colony which joined the federated nation of Malaysia in 1963. The purpose of the model was to help government officials manage a change from a predominantly resource based economy to a knowledge based one.
What You Actually Did
A team consisting of a project director, scientific director, development economist and two research assistants gradually secured the information needed to construct the model. A prototype model derived from a high-level map was developed quickly at an early stage in the project. Regular presentations were made as the model was developed, culminating in a special conference of senior State government officials and the modeling team when the final report was presented. The final model consisted of 15 sectors and around 450 equations and mappings. A microworld was constructed around the model to aid its use by non-technical officers. The primary aim was to elevate the standard of modeling used by State Government officials.
Malaysia as a whole is a planned economy which needs a more scientific basis for constructing their 5-yearly plans. The need to improve, substantially, the education system, involving fewer school drop-outs and more significant progression to higher education, particularly in the sciences, were strong features of model runs. Also, there was emphasis on the State incubating R&D schemes which would absorb the increased numbers of scientifically skilled graduates. Perhaps an over-riding conclusion was that we had exposed and convinced government officials as to the merits of SD as a methodology in this sphere of application.
The Results
It is difficult to place a monetary value on its impact. However, the potential benefits to the economy as a whole arising from enhancements to the education system and the incubation of successful enterprise are considerable. The project implanted an awareness and knowledge of SD in Sarawak and in Malaysia more widely – the Borneo Post carried a headline "Government to introduce System Dynamics model" explaining the project and its outcomes.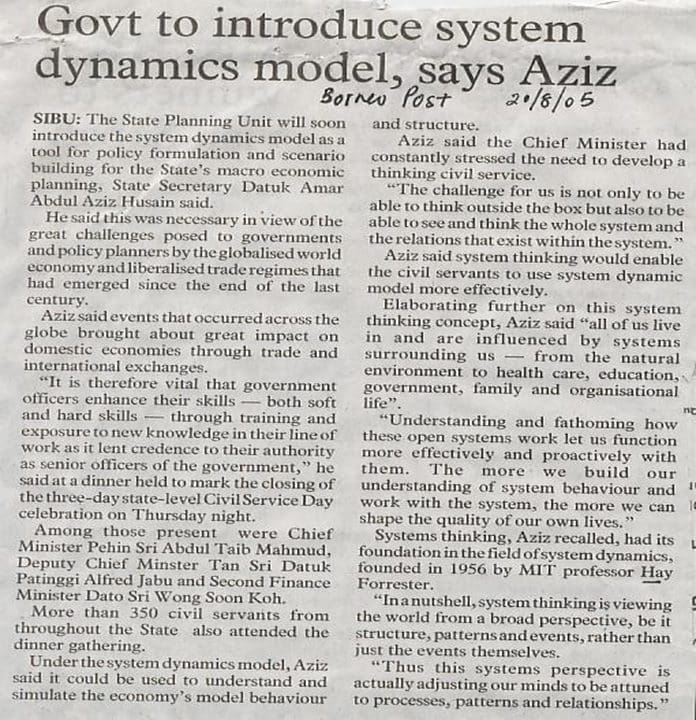 | | |
| --- | --- |
| Name | State Planning in Sarawak |
| Modeler | Brian Dangerfield |
| Client | Sarawak State Planning Unit |
| Client Type | Government |
OTHER SUCCESSFUL APPLICATIONS
Twinings Uses System Dynamics Games to Enhance HR Capability "Realistic simulation is a powerful approach to building capability. The business simulation developed [by Dashboard Simulations and Lane4] gave [Twinings staff] an experience that called for them to develop...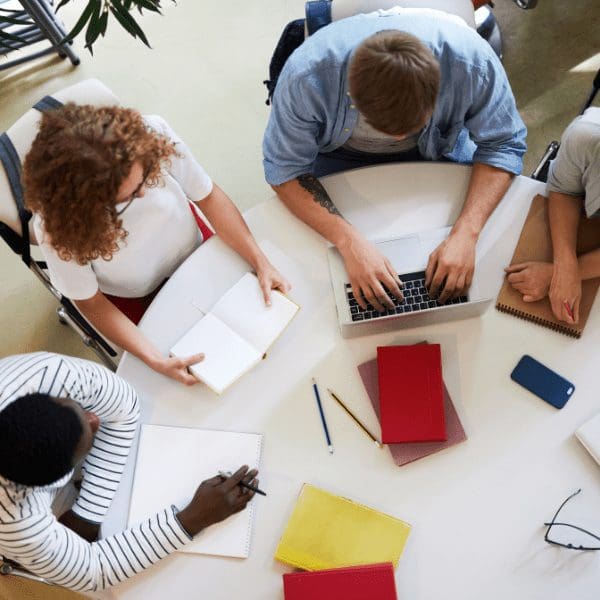 The Oceania Chapter of the System Dynamics Society: 2023 Systems Thinking and Modelling Symposium An introduction to System Dynamics Modelling with Mark Heffernan Presenter:  Mark Heffernan (Adjunct Professor, Western School of Computing, Engineering &...
How to Sell System Dynamics (Or Anything Else) If it's so good – why is System Dynamics so hard to sell? The key to selling System Dynamics has nothing to do with what we've learned in grad school. Instead, the key is to clarify a fundamental confusion everyone seems...
Q&A Session: From Problem Selection to Modeling and Career Development with Mohammad Jalali A Q&A session with Mohammad Jalali. An interactive event where the audience is the main driver of the talk. Questions from all directions, from how to choose a good...
How Food and System Dynamics Gave me A Career A discussion of two System Dynamics projects that had some real impact and then reflect on how this happened, and what needs to be in place for us system dynamicists to have an impact. Papers mentioned: Transforming Food...
LET US BE PART OF YOUR JOURNEY
Do you want to lead your organization into the future by overcoming paradigms and creating change? With Systems Thinking and System Dynamics you will enable powerful decision-making and find the leverage points to improve profits, strategy, efficiency, sustainability, and more.