5 days in June
– to understand System thinking, Systems Dynamics
– to use systems dynamics modeling and Systems Dynamics Participatory Modeling
– to create scenarios and narratives about post-growth and degrowth issues
– to play serious games involving Systems Dynamics (Fish Banks, Into the Loop, iSDG…)
Chapter Event
System Thinking Tools: Archetypes
The Nigerian Chapter of the System Dynamics Society is putting together some seminars to teach system dynamics to beginners across different walks of life. We started with System Dynamics Building Blocks for Beginners (click here to watch the recording).
The seminars will try to address specific, real-life issues and are designed to be easy for anyone to follow. The context and case studies (including models) will reference issues relevant to Nigeria and as such will capture some of the uniqueness of the Nigerian context. However, they can be applied to other countries.
If are you interested in learning how to build simple system dynamics models, participate in group model building, or understand the feedback structures of important systems, then these seminar events are for you.
Description
In this second seminar, Len Malczynski will explain the various archetypes like Fixes that Fail, Growth and Underinvestment and Shifting the Burden in systems thinking and how they can be used to understand a relevant national policy in Nigeria: the Naira Redesign Policy and its widespread effect. We will also look at a process and discover archetypal patterns that may lead to better implementation. (Click here to learn more about this policy).
Details of the seminar can be found on the flyer.
Make sure to RSVP and add the event to your calendar. Click the "Join the Meeting" button on this page to join the Zoom room when it is time.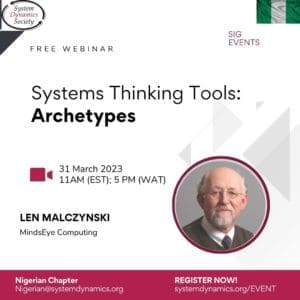 About the Nigerian Chapter
The objectives of the Nigerian Chapter of the System Dynamics Society
Developing and encouraging educational programs that promote systems thinking at all levels of education in Nigeria.
Promoting the development of the field of System Dynamics that will enhance the free interchange of learnings, ideas and meaningful research in all related fields.
Identifying, extending and unifying knowledge contributes to understanding feedback systems in Nigeria and Africa.
Becoming a body of knowledge in the development of models to help Nigerian public and private institutions.
Becoming a significant training centre with the mandate to spread systems thinking and system dynamics education across all the states in Nigeria.
To contact the Nigerian chapter, please send an email to nigerian@systemdynamics.org or visit our page.
To watch previous seminar recordings, you can visit our YouTube page. Make sure to subscribe and click the notification button so you are notified when we share a new video.
The Midlands Decision Support Network in association with The Strategy Unit are hosting INSIGHT 2022 our annual festival of learning and sharing events for the NHS, local government and other partners across health and care.
This year's festival is from Monday 21st November until Friday 2nd December and includes a mixture of talks, workshops and panel discussions. The theme is 'The science and craft of decision making'.
The rest of the content stays the same .. for now. We might add a bit of reasoning for the change but not yet …
Decision-making is a core task of leadership, but one which is often under-examined – the programme will explore what high-quality decision-making looks like and how staff across health and care can make the best use of the analysis available to them.
Sessions will be delivered virtually. The festival is open to everyone working in health and care and every session is free.
Attendees can commit as little or as much time as they'd like. Most of the sessions will be recorded so you can fit them into your schedule in a way that suits you.
Confirmed speakers include:
Understanding the links between Delayed Discharges and Hospital Congestion
Delayed discharge is a persistent problem in hospitals and there is growing momentum to address it. However, solutions are still elusive and decisions need to be made on the role of ICSs and government to help fund discharge.
This presentation suggests that the potential savings to health from reducing delays to discharge are being significantly underestimated in current solutions. Solving delayed discharge does directly save bed costs, but can also significantly reduce congestion, the use of reactive strategies to counter congestion and the unintended consequences of these for patients, staff and performance.
The talk will use system maps and archetypes to trace out feedback connections within hospital patient flows which give rise to congestion. It will be pertinent to those interested in the way hospitals function and/or the use of practical systems methods, but minimum analytical knowledge is necessary.
Eric Wolstenholme is a Professor of Management Science and Business Learning and has consulted and published widely in systems thinking and system dynamics. The presentation will allow time for questions/discussion and be available on line.
Associate readings are:
Wolstenholme, E.F. Using Cascaded and Interlocking Generic System Archetypes to Communicate Policy Insights—The Case for Justifying Integrated Health Care Systems in Terms of Reducing Hospital Congestion. Systems 2022, 10,135. https://doi.org/10.3390/ systems10050135 https://www.mdpi.com/2079-8954/10/5/135/pdf
Wolstenholme, E., McKelvie, D. (2019). Towards a Dynamic Theory of How Hospitals Cope in Times of High Demand. In: The Dynamics of Care. Springer, Cham. https://doi.org/10.1007/978-3-030-21878-2_10
Programme of events coming soon…
#INSIGHT2022, @MidlandsDSN