The Food Packaging Problem. A Food System Problem Not a Packaging Problem
Starting with the five components of the supply chain for food packaging, the presentation proceeds to describe a process for adopting System Dynamics. The process describes and uncovers the visible and invisible challenges to making the food packaging industry less dependent on single-use plastics. While the visible challenges are often identified through research and market analysis, the invisible challenges need to be uncovered by interviewing subject matter experts, government regulators, and those who operate in the food distribution supply chain, itself.
As the process unfolds, the search for a more sustainable solution led to the adoption of the System Dynamics causal loop diagram as a modeling tool. The practice of using semi-structured interviews and Connection Circles enabled non-academics to explain their own insights into how the food packaging systems operated. By combining the causal loop diagram with the information obtained from the interview process, a composite of food packaging market dynamics was developed.
System methods were applied from the study of events and outcomes down to creating new mental models.
The work done to apply System Dynamics to the pressing issues of Food Packaging and global sustainability cannot be praised enough. This webinar explores from a system perspective the role that food packaging plays in modern society. The growth-driven globalized food economy and time-deprived society are responsible for the dependence on food packaging. The presentation sheds light on the mental models driving the system and leverage points able to reduce modern food packaging addiction.
"After exploring existing and proposed solutions, it was discovered that there was no connection between the drivers of the use of plastic and the existing solutions" Sabrina Chakori
Learn more about the Seminar Series.
Watch the recording below
Whoops, this recording is available for members only. If you have a membership, please log in. If not, you can definitely get access! Purchase a membership here. If you're not a member but have purchased a ticket to this webinar, please contact us at office@systemdynamics.org
About the Speaker
Sabrina Chakori holds a BSc. in Biology (University of Geneva), and an MSc. in Environmental Economics (The University of Queensland), and she is currently finishing an interdisciplinary Ph.D. research that explores food packaging reduction in food systems. Sabrina is a passionate systems modeler (systems thinking, System Dynamics, network analysis). She believes that systems approaches are crucial to understanding and tackling current socio-ecological wicked problems.
For more than a decade, Sabrina has been advocating for a more sustainable society, leading numerous collaborations in various countries across Europe, Kenya, Ecuador, Mexico, and Australia, including an initiative with Queensland's Environment Minister to introduce the law banning single-use plastic bags. Sabrina is convinced that to solve the interlinked social and ecological crisis we need to change the roots of our economy, shifting away from the growth-driven system. To translate into practice her knowledge and vision, in 2017, she founded the Brisbane Tool Library, a social enterprise that encourages people to borrow tools, camping gear, and other equipment. This community-driven circular economy model reduces productivism and consumerism. The Brisbane Tool Library is Australia's first and only 'library of things' to be located within a public library – State Library of Queensland.
Sabrina is an Associate Fellow of the Higher Education Academy and, in 2021, she has been selected as Post Growth Institute fellow. Winner of the 2020 Create Change: 7 News Young Achiever Award (QLD) and recipient of the Emerging Female Leader bursary from the National Council of Women of Queensland (2020), Sabrina is a multi-award social entrepreneur, researcher, educator, and most of all activist. Sabrina is fully invested in creating systemic change that would build a more socially just and ecologically sustainable post-growth society.
Present at the Seminar Series
The Society Seminar Series consists of periodic online meetings on topics of interest to the systems thinking and System Dynamics communities. These virtual activities cover a wide range of topics that cross many domains while bringing together academics, practitioners, and students together for learning and lively discussion. Send your seminar proposal here
Sponsor a Seminar
The Society is actively looking for Seminar sponsors. This allows making a seminar open to all and free of charge. If your organization would like to sponsor one of these events, where you can promote your organization, firm, or software, for instance, contact us at office@systemdynamics.org
Honoring Excellence: A Glimpse into the Awards of the International System Dynamics Conference The International System Dynamics Conference brings together experts, practitioners, and students to exchange ideas, showcase real-world applications, and celebrate...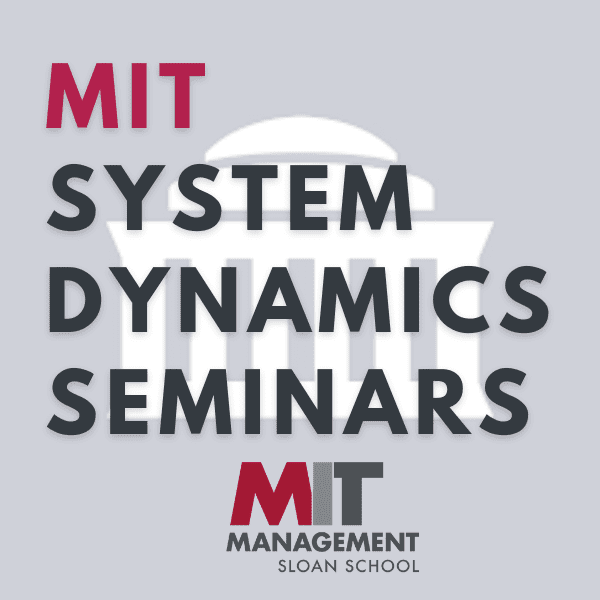 Please visit the MIT System Dynamics Seminars page for more information. You are invited to attend the System Dynamics Seminar being held on Friday, December 8th from 12:30-2:00pm EST in the Jay W. Forrester conference room, E62-450, or via...
The World Bank Uses System Dynamics to Identify Root Causes of Poverty EXECUTIVE Summary Madagascar has one of the highest poverty rates in the world. In 2022, an astonishingly three out of every four people in Madagascar lived below the poverty line. Poverty has...
Fast-Track Cities Uses System Dynamics to Enhance HIV Care EXECUTIVE Summary Low levels of viral suppression at 69% for people with HIV make it hard to believe the 95% target level will be achieved by 2030 in St. Louis, USA. As a solution, Fast-Track Cities-STL opted...
System Dynamics Unravels ICU Tensions at the Portuguese Oncology Institute EXECUTIVE Summary The Portuguese Oncology Institute (IPO) faced a critical challenge in its intensive care unit (ICU) where doctors and nurses experienced high turnover due to tensions with...