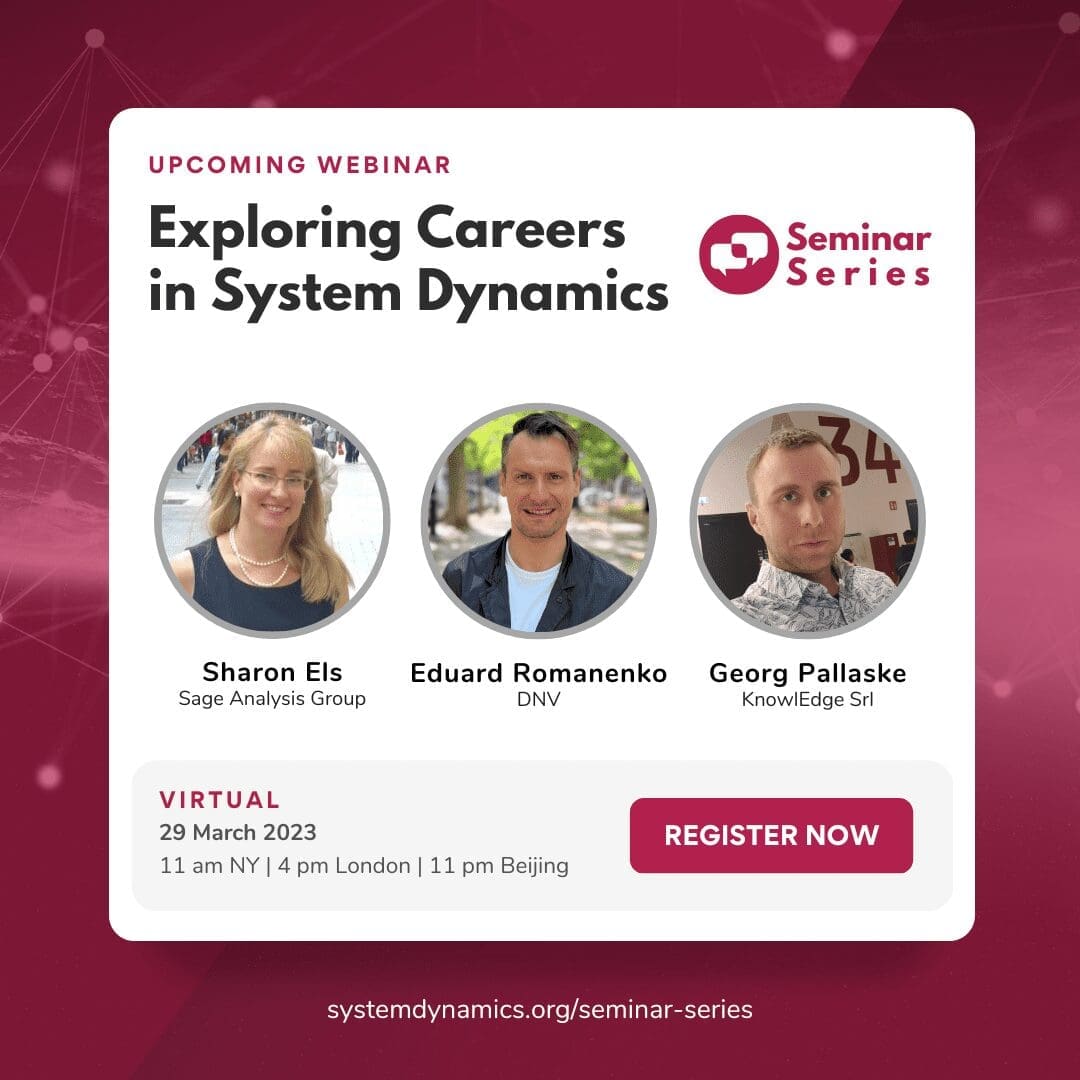 11 am NY | 4 pm London | 12 am Beijing | Time Converter
Exploring Careers in System Dynamics
Join us for an engaging panel discussion on careers in System Dynamics featuring experts Sharon Els, Eduardo Romanovski, and Georg Pallaske, moderated by Shane Carnohan. This session will provide attendees with a look into the careers of three System Dynamics experts, with discussion and advice on pursuing and maintaining a successful career.
During the panel discussion, attendees will have the opportunity to hear about the panelists' personal experiences, career journeys, and views on the field of System Dynamics. Topics that will be covered include the skills and knowledge needed to succeed, challenges and opportunities in the field, and integrating System Dynamics into real-world professions. Learn from their extensive experience working with government and corporate clients and gain valuable insights into addressing complex business challenges.
Whether you're a student exploring your career options or a seasoned professional looking to collaborate or broaden your understanding, this panel discussion is an excellent opportunity to gain valuable insights and learn from experts in the field.
About the Speakers
Sharon Els is an expert in business modeling and simulation with over two decades of experience. Her extensive client work includes predicting market changes, optimizing corporate resource allocation, and improving project performance. She has advised corporate executives and government leaders on complex strategy, policy, and program challenges at various technology, aerospace, finance, gaming, and government organizations. Sharon's insights and expertise have been instrumental in providing actionable recommendations and solutions to her clients. She currently works at Sage Analysis Group, where she continues to help organizations navigate complex business challenges.
Eduard Romanenko is a System Dynamics expert who holds a Ph.D. in System Dynamics from the University of Bergen (2022) and a European Master's degree in System Dynamics (2014). He has been working as a full-time SD modeler and researcher for the past 3.5 years. Eduard has provided SD modeling capacity for various projects, including a project on urban stormwater management in Oslo and a 5-country EU-funded project on adolescent overweight and obesity. His contributions have provided insights into complex issues related to these projects.
Georg Pallaske is a System Dynamics expert and project manager with a passion for sustainability. He works at KnowlEdge Srl., where he develops customized analyses to support government decision-making. Georg is also pursuing a PhD at the University of Bergen, focusing on integrated sustainable development policies. As a project manager, he works closely with clients from inception to the presentation of results.