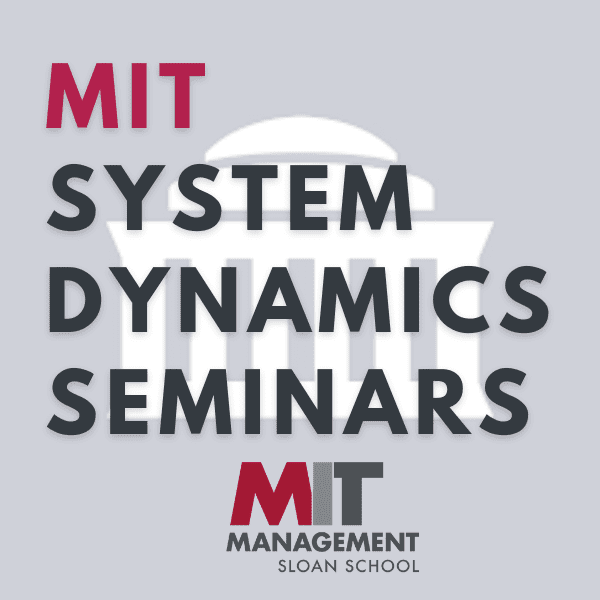 Attend the System Dynamics Seminar being held next Friday, September 29th from 12:30-2:00 pm EST in the Jay W. Forrester conference room, E62-450, or via Zoom: https://mit.zoom.us/j/98105285349 (Password: SDFA23). Our guest speaker will be Jerker Denrell (University of Warwick) presenting Relative versus Absolute Aspirations (see abstract and brief bio below, announcement attached). Lunch will be provided to those attending in person.
If you would also like to schedule a 30-minute 1:1 meeting with him before or after the seminar, please fill out the following Doodle poll by COB tomorrow, September 22nd and I will confirm times and location with a calendar invite: https://doodle.com/meeting/participate/id/eg2g48rd. Please notify me if you need to meet over Zoom instead.
Abstract 
Aspirations impact when managers search for new alternatives. Therefore, their level and adjustment to environmental conditions have important performance consequences. Past research has shown that higher aspiration leads to higher performance unless the environment is turbulent. When conditions can change quickly, long periods of search may not pay off. Using a simple and analytically tractable model, we show that when aspirations are defined in relative terms (being better than others), we get the opposite result: higher aspirations lead to higher performance. These contrasting outcomes are the result of externalities generated by relative aspirations: improvements by one agent can leave others unsatisfied. Our findings have interesting implications for goal setting for individuals and populations.
About the Presenter
Jerker Denrell grew up in Sweden, studied management, economics, philosophy and also some mathematics. He wrote a dissertation on game theory at Stockholm School of Economics but was converted by James March to think about learning and decision-making from a more behavioural perspective. He started his career at Stockholm School of Economics, worked at Stanford Business School, University of Oxford, and is now at University of Warwick. Jerker's research focuses on learning processes and their implications. Instead of examining whether biases exist in how people process information, he has examined how the sample of experiences available to people can lead to systematic biases in choices and judgment. He also has a keen interest in how randomness impacts our lives and fortunes and how stochastic processes can explain what appears as regularities.