System Dynamics Building Blocks for Beginners
The Nigerian Chapter of the System Dynamics Society is putting together some seminars to teach system dynamics to beginners across different walks of life. We are starting this with System Dynamics Building Blocks for Beginners.
The seminars will be largely practical-oriented (hands-on) and are designed to be easy for anyone to follow. The context and case studies (including models) will reference issues relevant to Nigeria and as such will capture some of the uniqueness of the Nigerian context. However, they can be applied to other countries.
If are you interested in learning how to build simple system dynamics models, participate in group model building, or understand the feedback structures of important systems, then these seminar events are for you.
Seminar Event
In the first seminar, Ivan Taylor, will walk us through concepts like stocks, flows, converters, feedback loops, connectors, etc.
Details of the seminar can be found on the flyer.
Make sure to RSVP and add the event to your calendar. Click the "Join the Meeting" button on this page to join the Zoom room when it is time.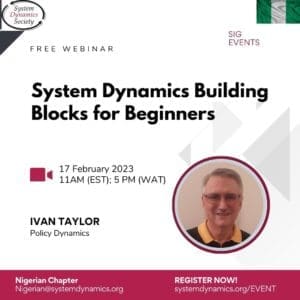 About the Nigerian Chapter
The objectives of the Nigerian Chapter of the System Dynamics Society
Developing and encouraging educational programs that promote systems thinking at all levels of education in Nigeria.
Promoting the development of the field of System Dynamics that will enhance the free interchange of learnings, ideas and meaningful research in all related fields.
Identifying, extending and unifying knowledge that contributes to the understanding of feedback systems in Nigeria and Africa.
Becoming a body of knowledge in the development of models to help the Nigerian public and private institutions.
Becoming a major training centre with the mandate to spread systems thinking and system dynamics education across all the states in Nigeria.
To contact the Nigerian chapter, please send an email to nigerian@systemdynamics.org or visit our page.
To watch previous seminar recording, you can visit our YouTube page. Make sure to subscribe and click the notification button so you are notified when we share a new video.N