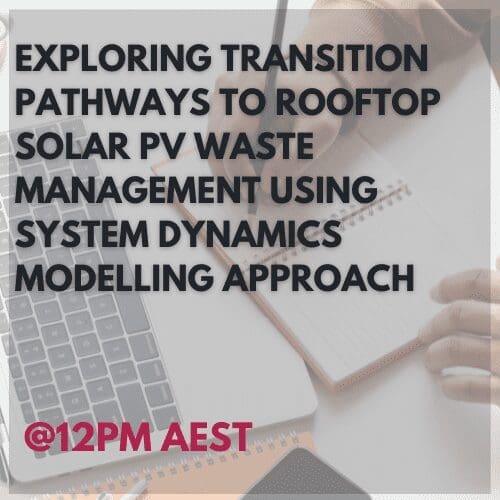 The Oceania Chapter of the System Dynamics Society Webinar Series.
Exploring Transition Pathways to Rooftop Solar PV Waste Management using System Dynamics Modelling Approach
Presenter: Dr. Hengky Salim, Senior Research Consultant, Institute for Sustainable Futures, University of Technology Sydney
Abstract:The adoption of rooftop solar photovoltaic (PV) adoption in Australia has exponentially growing in the past decade. There is a need to promote effective product stewardship for PV panels reaching their end-of-life (EOL). Product stewardship is as an approach to reducing environmental and other impacts of a product by encouraging or requiring manufacturers, importers, distributors and/or other persons to take responsibility for that product. Currently, only European countries have implemented an extended producer responsibility regulation under the Waste Electrical and Electronic Equipment (WEEE) directive. In this webinar, we are going to talk about the development process of a System Dynamics (SD) model for managing EOL rooftop PV panels and how to apply the SD model to explore different scenarios for managing rooftop solar PV waste in Australia. This webinar will also highlight the importance of a stakeholder engagement in supporting the model development process especially given the system under study is underpinned by high uncertainties and limited data availability.