We are excited to invite you to the first webinar in our upcoming series of three engaging sessions on 'Model' Teaching on Thursday, September 28, at 1:00 pm EST.
George Richardson, a world-class system dynamicist and educator, will guide participants through the core concepts and practical implications of systems dynamics model teaching. His extensive experience, particularly in working with K-12 teachers, ensures that the content will be both relevant and valuable for educators across different levels.
This series aims to provide:
a starting place for people new to the art of teaching modeling,
a source of ideas for teachers looking to advance what they've been doing,
for experts in these arts who might enjoy a comparative look,
some exchanges on pedagogy, which would benefit us all.
Before the first session of the series, we kindly ask participants to familiarize themselves with a 30-page set of notes prior to the webinar. These notes will serve as a foundation for the discussions, allowing you to contemplate how the models presented can be adapted to your specific settings or situations.
Please click here or on the image at below to access the notes.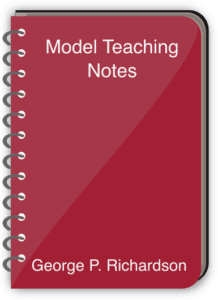 The notes are a compilation of three papers previously published in System Dynamics Review. You can access the original articles using the links below:
The workshop format of the webinar is designed to encourage active participation. We highly encourage you to come prepared with questions, contributions, suggestions, and ideas. Your insights will not only enrich the discussions but also provide a platform for collaborative learning and exploration.
We look forward to your active participation in this enlightening webinar series. Let's explore the world of systems dynamics together and uncover innovative ways to enhance education.
Best regards – the SIG leadership team.
---
George P. Richardson
George P. Richardson is Professor Emeritus of public administration, public policy, and information science at the Rockefeller College of Public Affairs and Policy at the State University of New York at Albany. He earned his doctorate under Jay Forrester at MIT and is the author of Introduction to System Dynamics Modeling with DYNAMO (1981) and Feedback Thought in Social Science and Systems Theory (1991), both of which were honored with the System Dynamics Society's Forrester Award.
George has played and sung acoustic folk music for sixty years. He has ridden a motorcycle cross-country from NY State to Seattle, the Olympic Peninsula, and down to Portland. He's also ridden round-trip the fabled Dalton "Highway" from Calgary to Deadhorse, AK, and Prudhoe Bay, 300 miles north of the Arctic Circle. Both trips took less than sixty years.
---
The Pre-College SIG Webinar Series consists of periodic online presentations on K-12 education topics for Systems Thinking and System Dynamics communities. These virtual presentations cover a wide range of topics on K-12 education and bring together academics, teachers, and students for learning and lively discussion. Our webinars aim to promote and improve skills to effectively apply systems thinking and dynamic computer simulation in K-12 education.
All webinars and recordings are free for both SDS members and the general public. Please visit SDS Pre-College Education SIG page for previous webinar recordings.