The International System Dynamics Conference (ISDC) convenes practitioners who demonstrate what's new and developing in their fields with System Dynamics. This section of the WiSDom Blog, "Conference Highlights," asks system dynamicists to spotlight key presentations and innovations presented at the conference.
– Conference Highlights Editorial Team: Saras Chung, Will Glass-Husain, Jack Homer, Sara Metcalf, and Remco Peters with coordination by Christine Tang
This highlight by Dr. Benjamin Turner spotlights Agriculture and Food modeling work that was presented at the conference. Special thanks to Dr. Remco Peters for his editorial support on this post.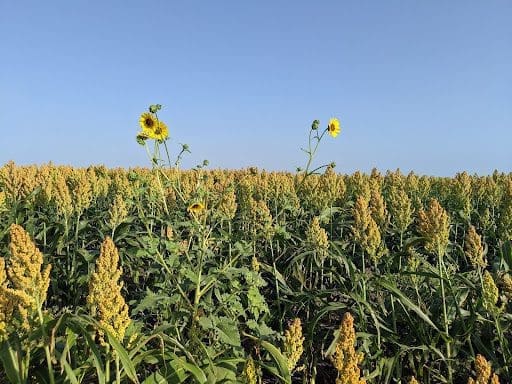 Agricultural and food modelers produce a crop of conference contributions
A society's ability to produce and distribute food is essential for its survival and unleashing human potential. Given the 21st century challenges of population growth and conserving natural resources, it is crucial to improve the performance of local, national, and global agri-food systems. Many system dynamicists are actively working to address such issues. The 2021 International System Dynamics Conference showcased much of this important work.
For instance, in the global south, food inequity among small-holder farmers is a challenge that was examined by several system dynamicists. Sandra Volken explained that many families in Senegal (West Africa) had to abandon their lands due to declining groundwater tables and the growth of corporate vegetable growers. James Enos presented another example of food inequity in the Upper Nile Basin (Ethiopia and Uganda), where agricultural lands dependent on rainfall put tremendous pressure on small-holder farmers to convert their land for other uses. James illustrated how weather patterns strengthen the oscillatory nature of crop dynamics, leading to a fewer number of crops being grown over larger areas. In the poultry sector, Kelechi Odoemena and his team presented an innovative intervention to address food inequity challenges, which employs a flight-simulator to teach small-scale producers production and financial management principles using key performance indicators (KPIs).
In the global north, important industry-wide challenges are being tackled using System Dynamics. Talks by April Roggio and Alberto Atzori focused on realignment issues causing inequities in the dairy industry. Roggio updated a DYNAMO model originally built in 1976 and demonstrated how competition in a limited market slows down farm ownership transitions, restricts new and young farmers from entering the industry, and accelerates land price appreciation through fragmentation. Atzori and collaborators worked together with the largest milk producers in Italy to develop a general herd management model, calibrated to the best available industry data. Their model is already being used by farm managers to plan milk market deliveries and reduce fluctuating milk and cow inventories.
Some agri-food issues are more ecologically-driven, such as weed herbicide resistance. One of my students, Chris Flores-Lopez, presented a model to address this issue and its impact on long-term cropping system feasibility. His model demonstrated that accumulations of resistant weed seeds in the soil seed bank are only manageable in the short-term (3-5 years) with "status quo" practices of chemical switching. Subsequent tests showed a more hopeful picture. Integrated solutions taking advantage of weed-crop interference pressures can reduce crop losses despite weed seedbank accumulation.
"Farm to fork" challenges at a consumer level were also shared at the conference. Simone Peters and Inge Bleijenbergh's causal loop diagram of Dutch household food dynamics highlighted the gap of consumer awareness necessary to motivate significant conservation efforts. April Roggio's team identified ways to model and manage foodshed resiliency. Their work is laying a foundation that warrants much more attention from scientists in our field. 
A critical insight emerged from these contributions. Purely technical solutions such as water well installation, switching chemical herbicides, or maximizing milk yield are no longer effective. Instead, future solutions require social or organizational interventions that drive individual decision patterns responsible for reinforcing undesirable or unintended outcomes. This includes revising incentive structures surrounding water resources and livestock markets or implementing more complex cropping systems to build resiliency. 
Global Collaboration through the SDS Agriculture and Food Special Interest Group (SIG)
Many of the presenters highlighted above have been actively engaged in the SDS's Agriculture and Food Special Interest Group (A&F SIG). The success of the SDS's investment in SIGs may be best illustrated by a recent collaborative effort. Led by Busra Atamer Balkan, the A&F SIG team built a stock-and-flow model, which illustrated how barriers to input supplies and market access were disproportionately affecting smallholder producers during the COVID pandemic. Their resulting framework facilitates dialogue among stakeholders and provides critical modeling structures that I would recommend to anyone studying the impact of COVID on food supplies. This project began as an idea during a SIG meeting, was developed into a conference presentation, and is now peer-reviewed and forthcoming in the International Journal on Food System Dynamics.
The 2021 System Dynamics conference was a tremendous success for transdisciplinary problem-solving. It was remarkable to see parallel challenges in the field despite diverse socio-economic, cultural, or geographic contexts. Discussions during this conference have kick-started several post-conference collaborations and projects. Transdisciplinary approaches to address agri-food system challenges can be accelerated through engagement with System Dynamics Society members and participation in annual conferences or SIGs. 
We should all be encouraged that system dynamicists around the world are taking on some of the most important agricultural and food-related issues. I know that I am. 
Benjamin Turner
Dr. Benjamin Turner is an Associate Professor of Natural Resource Management at Texas A&M University-Kingsville and co-organizer of the Agricultural and Food Special Interest Group of the System Dynamics Society.