Brazilian Officials Explore Educational Preventive Oral Care
The Issue You Tackled
Dental caries is still considered the main pathology to cause tooth loss. It is a chronic disease that can mutilate people for the rest of their lives, negatively affecting their life quality.
According to a national survey conducted in Brazil in 2010, older people aged between 65 and 74 years had already lost most of their teeth. Although dental caries etiological factors and prevention procedures are well known, there seems to be a gap between the evidence found in the recent literature and the actual dental care provided in health services in Brazil.
What You Actually Did
The impact of the preventive approach over time does not seem to have been completely understood. Thus, the main objective of this study was to simulate the impact of educational preventive approaches in the maintenance of teeth throughout the lifetime of people.
System dynamics modeling involves the development of computer simulations based on conceptual interactions of multiple factors and processes of accumulation and feedback. This is a suitable approach for the dynamic complexity that characterizes many public health issues.
The model is a useful tool for policymakers when choosing the most appropriate interventions for their populations. This study used data obtained from the National Oral Health Survey conducted in 2010, and qualitative variables from a recent systematic review and some unpublished studies.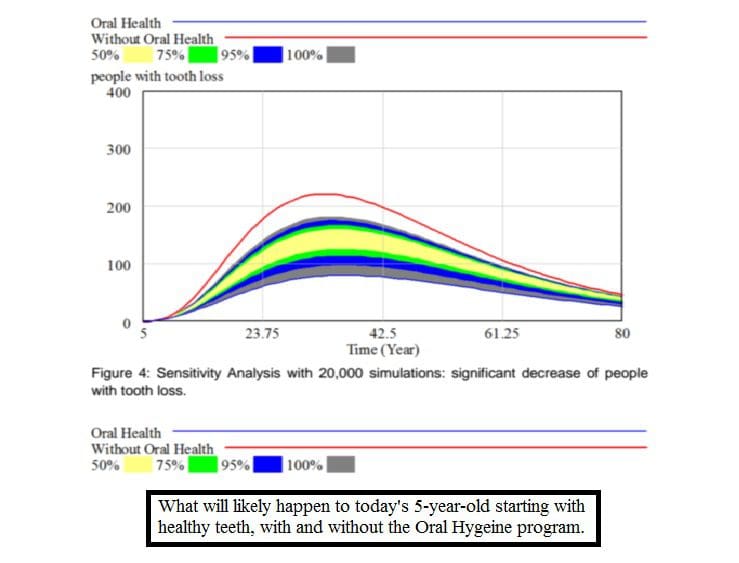 The Results
This model showed that educational preventive care can lead to the adoption of healthy habits by the population to a level of 22% over 1 year, resulting in higher numbers of people with retained teeth and improved life quality. This would likely result in the proportion of adults retaining all of their teeth rising from 25% to 50% over 60 years. This could be accomplished with no more than once a week of oral-health education per child, at a cost of no more than US$ 1,5 per year per child.
Our findings highlight the importance of investments in educational approaches from early childhood to result in an exponential cascade effect for the improvement of the oral health of the Brazilian population.
Name

Oral Health Model

Modelers

Mitsue Fujimaki, Josely Emiko Umeda, Renata Corrêa Pascotto, Raquel Sano Suga Terada, Thiago Brito, Ricardo Pietrobon, and Guttenberg Passos

Contact
Professor Mitsue Fujimaki

,




Coordinator of the Graduate Program in Integrated Dentistry, Universidade Estadual de Maringá – UEM,

Client/Participant

State Secretary of Health of Paraná

Client Type

Government
Related Publications
| | |
| --- | --- |
| Understanding why caries is still a public health problem | Download |
OTHER SUCCESSFUL APPLICATIONS
Twinings Uses System Dynamics Games to Enhance HR Capability "Realistic simulation is a powerful approach to building capability. The business simulation developed [by Dashboard Simulations and Lane4] gave [Twinings staff] an experience that called for them to develop...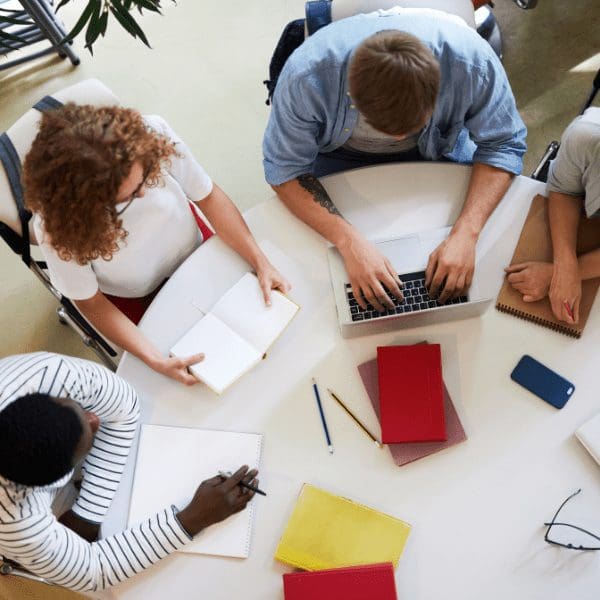 The Oceania Chapter of the System Dynamics Society: 2023 Systems Thinking and Modelling Symposium An introduction to System Dynamics Modelling with Mark Heffernan Presenter:  Mark Heffernan (Adjunct Professor, Western School of Computing, Engineering &...
How to Sell System Dynamics (Or Anything Else) If it's so good – why is System Dynamics so hard to sell? The key to selling System Dynamics has nothing to do with what we've learned in grad school. Instead, the key is to clarify a fundamental confusion everyone seems...
Q&A Session: From Problem Selection to Modeling and Career Development with Mohammad Jalali A Q&A session with Mohammad Jalali. An interactive event where the audience is the main driver of the talk. Questions from all directions, from how to choose a good...
How Food and System Dynamics Gave me A Career A discussion of two System Dynamics projects that had some real impact and then reflect on how this happened, and what needs to be in place for us system dynamicists to have an impact. Papers mentioned: Transforming Food...
LET US BE PART OF YOUR JOURNEY
Do you want to lead your organization into the future by overcoming paradigms and creating change? With Systems Thinking and System Dynamics you will enable powerful decision-making and find the leverage points to improve profits, strategy, efficiency, sustainability, and more.